Mosaic+ Veggie Bowl
$11.99
Veggie Kebab Platter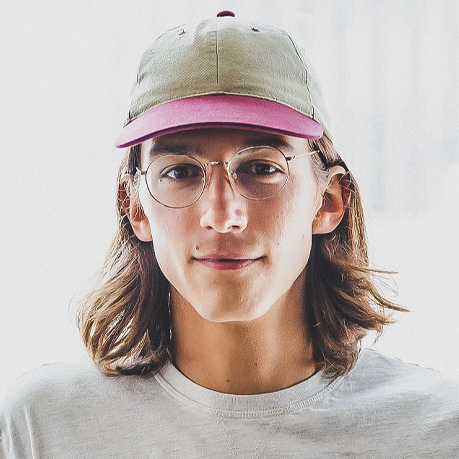 by Pierce Abernathy
Cue the cameras: Content creator and food fanatic Pierce Abernathy is live with his delightful take on a classic Mediterranean dish — Featuring flame-grilled veggie kebabs rolled in a fragrant blend of warm spices and served over a bed of roasted eggplant cooked to tender, melt-in-your-mouth perfection and stewed into a delicious, garlicky tomato sauce. Protein-rich bulgur adds a hearty dose of grains, while an herbaceous blend of mint, cilantro, and parsley is sprinkled with pickled onions for a balanced bite of tang and tart. This is one meal you won't just 'like' — you'll love.
About Pierce Abernathy
Pierce Abernathy is a content creator and food connoisseur who shares fun and approachable recipes on TikTok and Instagram with his hundreds of thousands of followers. He's passionate about getting people excited about cooking for themselves and eating more plants along the way. Pierce got his start in the culinary world while working in digital media in New York City as a food content producer.
Through this experience, he developed a passion for cooking and hosting, and eventually decided to pursue food as a career. Pierce then dove into the culinary scene, working in a restaurant kitchen, researching recipes, and experimenting in his own home. He now shares his kitchen adventures at @pierceabernathy on Instagram and @pierzza on TikTok.
Real. Good. Food.
Our meals are packed with natural, good-for-you ingredients and nothing artificial, ever.
Nutrition Facts
Servings:
  1,  
Serv. Size:
  1 bowl (393g),  
Amount Per Serving:
Calories
 440,  
Total Fat
 21g 
(27% DV)
,  
Sat. Fat
 2.5g 
(13% DV)
,  
Trans Fat
 0g,  
Cholest.
 0mg 
(0% DV)
,  
Sodium
 890mg 
(39% DV)
,  
Total Carb.
 55g 
(20% DV)
,  
Fiber
 14g 
(50% DV)
,  
Total Sugars
 14g  
(Incl. 0g Added Sugars, 0% DV)
,  
Protein
 13g
(26% DV)
,  
Vit. D
(0% DV)
,  
Calcium
(10% DV)
,  
Iron
(21% DV)
,  
Potas.
(19% DV)
. 
Ingredients
Ingredients: Eggplant, Crushed Tomatoes (Fresh Tomatoes, Salt), Cooked Bulgur, Onion, Water, Spinach, Cooked Chickpeas (Cooked Dried Chickpeas, Water, Salt), Olive Oil, Mushrooms, Parsley, Green Lentils, Chickpea Flour, Carrots, Garlic, Walnuts, Lemon Juice, Celery, Distilled Vinegar, Salt, Spices, Cilantro, Sesame Seeds, Potato Starch, Mint, Thyme, Sugar, Liquid Smoke (Water, Hickory Smoke Concentrate), Sumac
Contains: Wheat, Walnut, Sesame
How to Enjoy
Microwave: Remove from carton and peel up a corner of the plastic film to let steam escape. Microwave on high for 5 1⁄2 - 6 1⁄2 minutes, or until internal temperature reaches 165° F. Stir to mix ingredients.
Stovetop: Combine 1 teaspoon of neutral oil and 2 tablespoons of water in a nonstick skillet over medium heat. Add tray contents; cover and heat for about 7 - 10 minutes, or until internal temperature reaches 165° F, stirring often. Halfway through cooking, move kebabs to the edge of the pan to avoid crumbling.