Frozen Coconut Basil Lemonade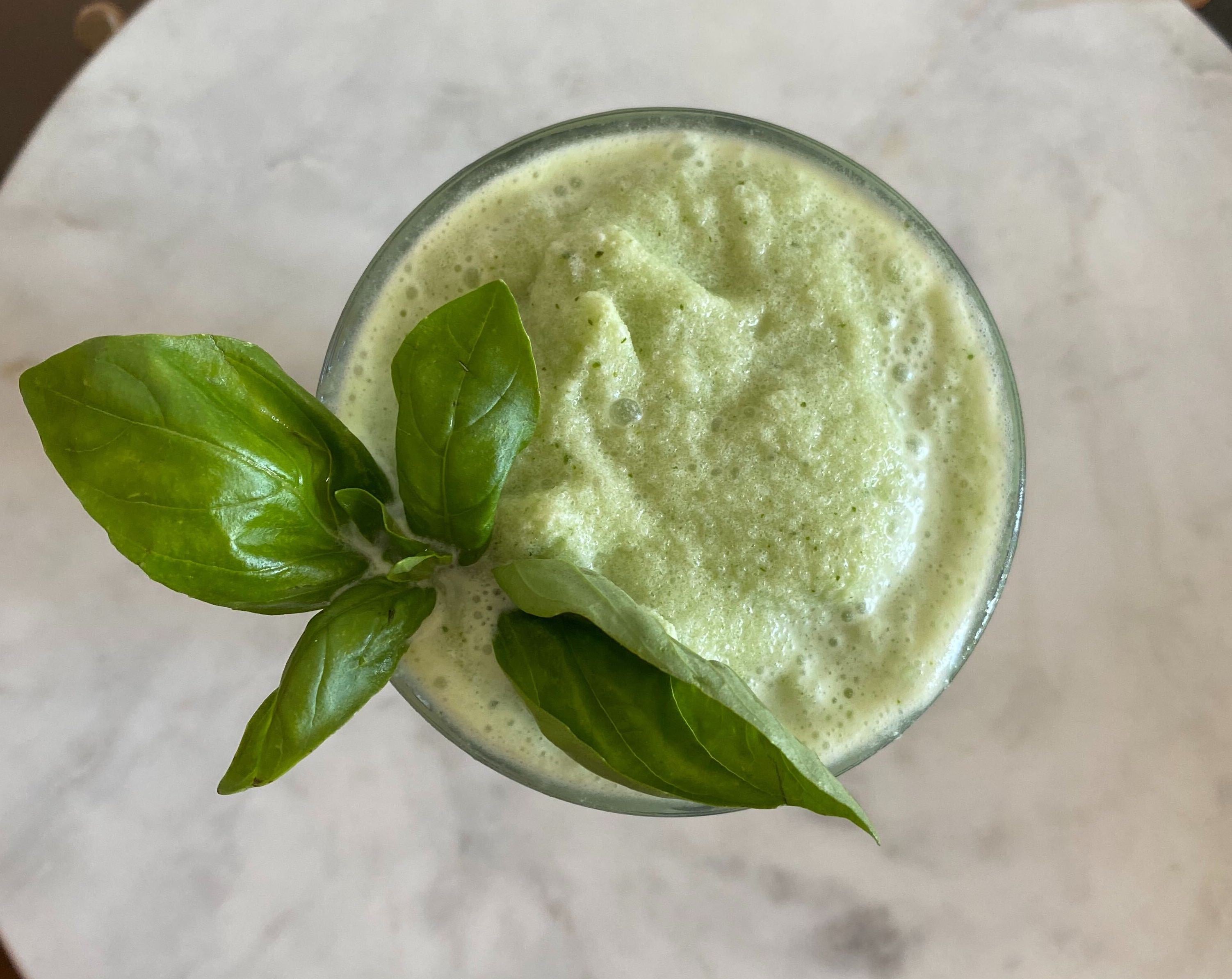 Citrus, basil, and coconut come together deliciously in this frosty vegan treat that's both easy and quick to whip up. It's incredibly refreshing, too, as it combines the creaminess of a milkshake with the thirst-quenching tanginess of freshly squeezed lemonade; a little sweetness (but not too much!); and the cool-down factor of a slushee. In other words, this will become your new go-to summer beverage.
Another plus: this whipped, basil-infused lemonade comes together with a mere 5 ingredients (and that's counting the ice!). We prefer to squeeze our own lemon juice from fresh, whole lemons, but the recipe works just as well with a high-quality bottled lemon juice (not lemonade, though). If you must, you can replace the classic, full-fat, canned coconut milk with light canned coconut milk or refrigerated coconut milk. Just know that you'll lose some of the creamy texture and lush mouthfeel that elevates this summer beverage.
You can strain the sweetened lemon mixture to get rid of some of the basil leaf parts; or you can skip that step—and save a utensil to wash—so long as you don't mind a little extra green in your drink. (Can we count that as extra fiber?) Also, we lean towards a less sweetened lemon mixture in this recipe. However, if your tolerance for tanginess is on the lower side, you may want to taste the lemon-basil mixture before moving on to Step 2. If you find it too tart, add another 1/4 cup of agave into the blender in Step 2.
We highly doubt there will be any leftovers, but if you find yourself in that position, here's what to do: Pour into a tightly-sealed, airtight container and store in the freezer. When you're ready to drink another, let the frozen mixture thaw just slightly, then return it to the blender for a quick buzz before pouring into your glass. If it's still quite thick, you can thin it with a splash or two of warm water.
Garnish your glass with a sprig of basil, mint, or even rosemary—as each of these herbs will complement the citrus. Or use a curl of lemon rind. If you're in the mood for a boozy version, add a rum floater on top, or blend a little bit of your favorite vodka in Step 2.
Most importantly—drink this immediately (and thank us later). Cheers!
Frozen Coconut Basil Lemonade
Serves 4
Ingredients
1 cup freshly-squeezed lemon juice (about 6 to 7 lemons)
1/2 cup light agave
1 cup fresh basil leaves
5 cups ice cubes
1 13.5 fl. oz can full-fat coconut milk
Directions
Put lemon juice, agave, basil, coconut milk and ice cubes in a blender and blend until very smooth. Blend until the ice is crushed and the mixture is slushy.
Pour between 2 large glasses, garnish with a basil sprig, if desired, and serve immediately. .