Vegan meal delivery
that's healthy and delicious

.

Satisfying vegan favorites — chef-cooked and delivered.
Our 100% Guarantee:
Finding a good vegan meal service isn't easy. So if you don't love your food, we'll issue a full refund, no questions asked.
Healthy & vegan.

Easy as (plant-based) pie.

Wholesome eating has never been so easy. Here's how it works.
Choose your meals
We offer 30+ vegan & vegetarian meal options. If you're fully vegan, look for the

icon, which indicates meals that are 100% free of animal products.
Pick your plan
Choose your delivery frequency and skip or cancel at any time. Our service makes vegan eating healthy and convenient.
Receive your vegan meals
Next-day frozen shipping in 100% recyclable packaging. We'll delivery your box of plant-powered food right to your door.
Heat & enjoy
No need for shopping, prep, or cleanup. Our plant-based favorites microwave in 5 minutes or less — no cooking necessary!

A vegan diet made easy.
Our delicious, vegan-friendly meals offer outstanding quality that's delivered to your door and ready to heat in under 5 minutes.
Vegan options galore
Mosaic meals are 100% vegetarian, and we also offer tons of plant-based and vegan-friendly options — look out for the

icon when adding meals to your cart. All of our meals are packed with fresh produce that's sourced locally and hand-cooked by real chefs in our Hudson Valley kitchen. Our vegan ingredients are fresh, hearty, nutrient-rich, and satisfying.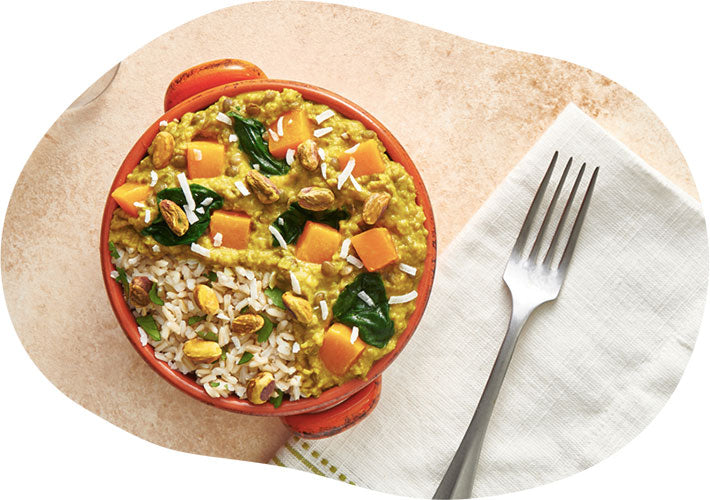 Hand-cooked by chefs
Good food is made with care. That's why our chefs peel, chop, season, and roast all of our ingredients by hand — and taste test every batch for quality. Healthy, plant-based eating should be easy. So forget shopping, cooking, and cleaning. Our cooks will do the work for you and deliver fully-prepared meals in 100% recyclable packaging. It's the vegan meal service you've been waiting for.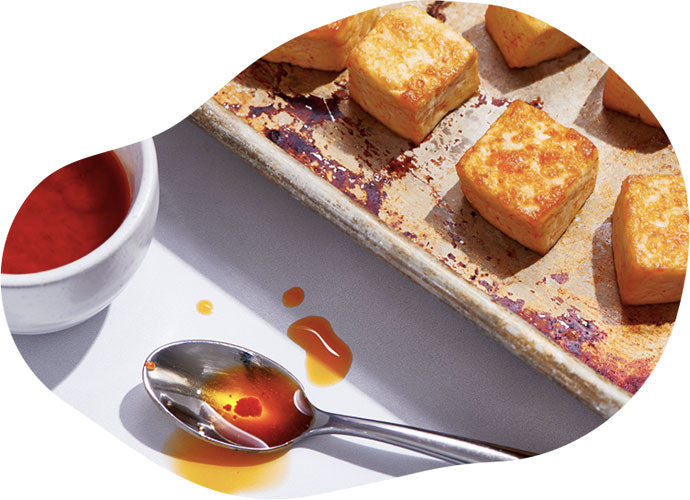 Nothing artificial, ever
Vegan eating is a noble goal, but it sometimes means compromise: oftentimes, vegan-friendly products contain chemicals or artificial ingredients that you wouldn't otherwise want to eat. Not for us. Here at Mosaic, we have a simple rule: if it's not real, it doesn't go in our food. Our plant-centric & vegan meals don't contain any artificial ingredients.

Healthy meal delivery, outside and in.
We design all our recipes, whether vegetarian or completely vegan, to be healthy & satisfying, with lots of vegetables and a vitamin-rich micronutrient profile. Here's what's inside a typical Mosaic meal.
Added Sugars 0g, Sodium 710mg, Cholesterol 0mg

Vegan favorites for every meal of the day.
Breakfast
Our protein- and nutrient-packed steel-cut oat bowls are a satisfying start to any vegan's day. With over 10g of plant-based protein in each, they'll keep you focused and energized, guilt-free.
Lunch
Plant-packed lunches bursting with delicious flavor and packed with fresh veggies and whole grains. No more 'junk food' veganism — just 100% real, plant-based food.
Dinner
No vegan takeout near you? No problem. From high-protein noodles to hearty tempeh and tofu dishes, our vegan dinners will refresh you after a long day.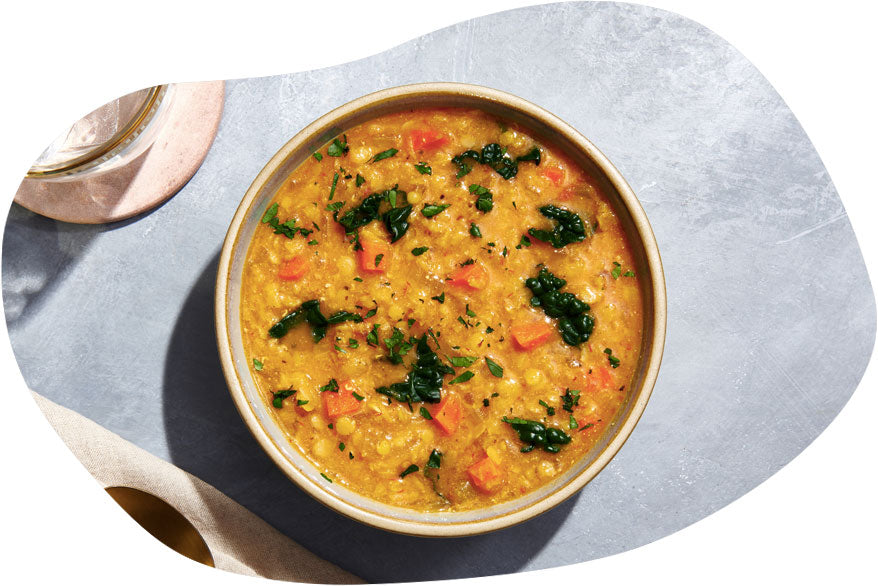 A vegan meal service customers love.
We want every customer to have an amazing Mosaic experience. So we have a simple policy: if you don't like your food, we'll give you a refund, no questions asked.
Vegan and delicious
Yes, there are vegan options. Yes, they are delicious. So great to see a company finally committed to reducing meat consumption and carbon emissions. Plus, the options are extensive and all so delicious!
Best premade meals I've ever had
I'm a busy doctor with no time to cook, and have tried numerous prepared meal services. I'm not even vegan, but this is the best service I've tried by far!
Giving up meat
I have high cholesterol and my doctor recommended that I reduce my red meat intake. I decided to try Mosaic for a few meals a week, and I've been blown away. Not missing my steaks — the flavor is amazing and I feel better than I have in years.
Excellent quality
I get Mosaic every two weeks and LOVE it! It was a lifesaver during the pandemic and I've stuck with it ever since because the quality of the meals is just that good.
Surprisingly good
I was skeptical at first because I've had some not-so-great experiences with meal delivery services. But now I'm a convert. Super healthy meals, incredibly easy to make, and they taste great. Now I'm a regular customer.

Questions about our meals and veganism?

We've got answers.

Here are a few answers to the most common questions about our meal service.
Are your meals 100% vegan?
Anything marked on our site with the

symbol is 100% vegan and does not contain any ingredients derived from animal products. In addition to the usual culprits (for example, products derived from meat, poultry, fish, eggs, or milk), this also means that we use only organic sugar (to avoid the animal bone char that is often used to bleach conventional sugars); never add honey; and don't use any liquids such as wine or maple syrup that may have been filtered using animal products. Note that we also sell vegetarian meals on our site, so look out for the

icon, which indicates a meal that is vegetarian but not necessarily vegan.
Is there any risk of cross-contamination with other meals you sell that contain animal products?
No. Although our facility does also cook non-vegan meals (in fact, some of the meals that we sell at Mosaic contain dairy), we cook our vegan and non-vegan meals at separate times and thoroughly clean our kitchen between shifts. When our food is marked as "vegan", you can be sure that it's 100% free from contamination by animal products.
I want to eat more vegan food, but I'm worried I won't get enough protein!
Never fear: we've optimized our meals for a balanced macronutrient profile and use vegan ingredients that are rich in protein and give you the energy and focus you need to stay strong. You'll notice that our vegan meals often contain plant-based protein ingredients like tofu or tempeh; or are rich in beans, hearty whole grains, lentils, and nuts and seeds. All of our meals have 10+ grams of plant-based protein, and many have 20+! Look for the high protein icon
when choosing meals if you want to prioritize protein in your diet.
I've read a lot about "junk food veganism". Are your meals made with whole ingredients?
Yes! At Mosaic, we believe that eating healthy is about more than just eliminating meat from your diet — it's about eating hearty, whole, and natural ingredients without lots of artificial or synthetic fillers. We cook with real veggies and fruits, farm-fresh produce, and hearty whole grains packed with macronutrients your body needs — not synthetic gunk!
Where can I learn more about veganism?
At Mosaic, we're huge fans of plant-based eating and want to do everything we can to help you on your path to eating more veggies. That's why we compiled this handy vegan diet guide. It's a great resource to learn more about what veganism is; why it's important; and how to get started.
How much do your meals cost?
A vegan diet can be expensive — especially one based on whole foods and fresh produce. That's why we're incredibly proud to offer our vegan delivery service at a price point that's accessible to all. Our vegan breakfasts start at $5.99 each, and our lunches and dinners start at $9.99 each. Plus, we offer free shipping on orders of over $100!
Start your vegan meal plan
today

.