"I Tried Mosaic for a Week - Here's Why I Love It"
Now that we're on the West Coast, we sent a week of our meals to Alex Keller, Cali-based wellness entrepreneur. Here's what she thought!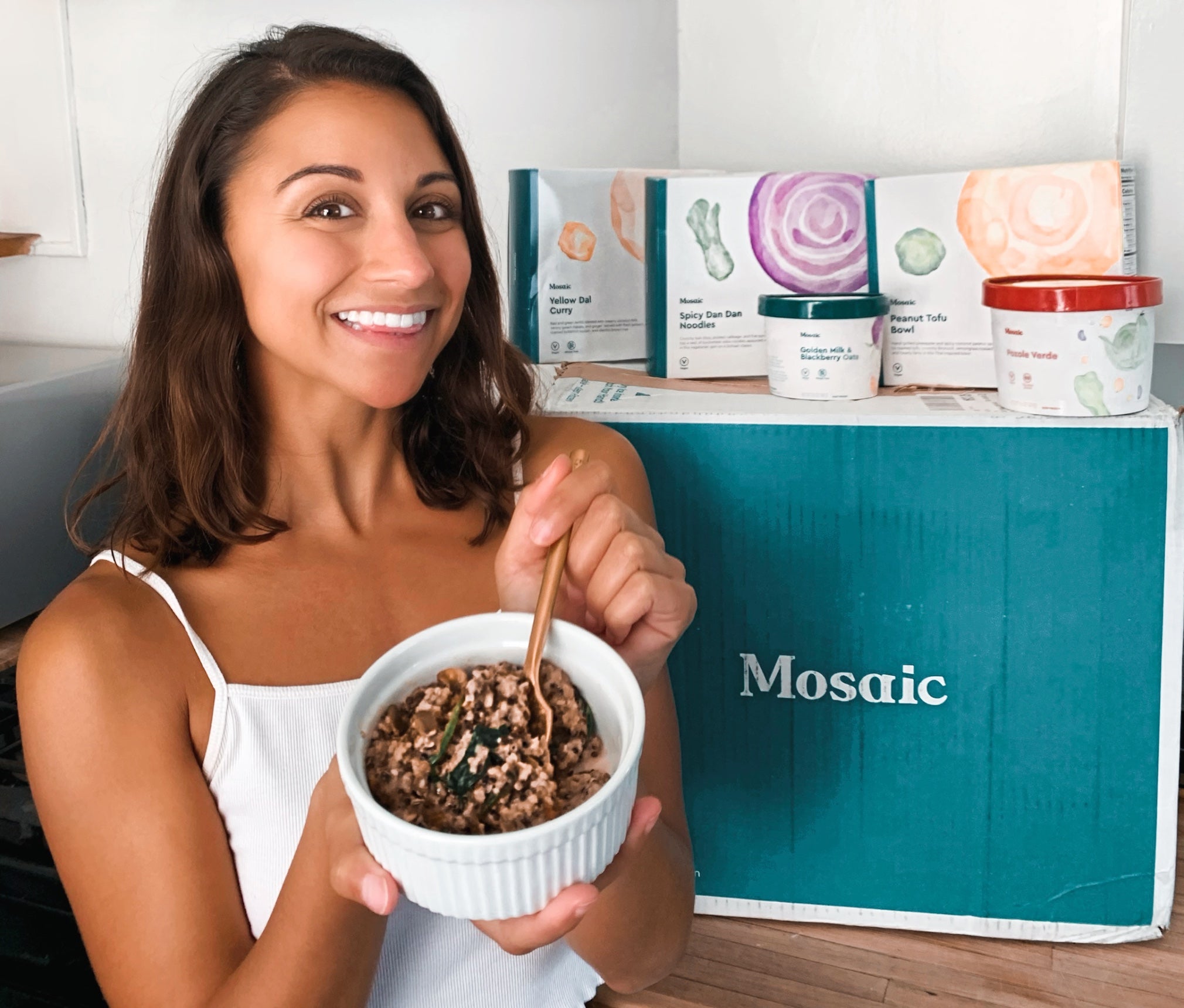 From day one, our mission at Mosaic has been to put good food on every table. We delivered our first meals in the tri-state area two years ago, and have steadily expanded down the East Coast since then. Our approach when it came to expansion has always been to grow as fast as we could — but as slow as we needed — to ensure the integrity of our process and quality of ingredients would never be compromised.
That's why we're thrilled to announce that after many months of research, planning, and quality control, Mosaic is officially available on the West Coast! We now deliver to zip codes in California, Nevada, Oregon, Washington, Idaho, and Utah. Every new city or state we're able to serve is a monumental benchmark in our mission to make nutritious, plant-powered meals accessible to even more people.
To kick off our expansion, we invited Cali-based wellness entrepreneur Alex Keller to try Mosaic for a week and give her thoughts. Here's her take:
Hey, I'm Alex! I'm the Chief Mindfulness Officer at Hōmme (coming to Los Angeles, CA in 2022). Hōmme is a place for high-performance individuals to work, play, heal, and connect all under one roof by providing co-working space, health-forward restaurants and bars, group wellness classes, and private healing sessions, all designed to promote mental well-being.
Needless to say, I'm really passionate about health and wellness, both professionally and personally. I follow a mostly plant-based diet, but eat vegan when I'm cooking for myself at home. I've definitely been trying to cook more and eat out less, but it can be really hard to keep up with — so an opportunity to try a week's worth of healthy meals from Mosaic (that I wouldn't have to cook!!) sounded absolutely amazing.
This is what I had:
Monday
I started small and grabbed the Golden Milk Oats Bowl for breakfast. I loved that it wasn't just a typical bowl of oatmeal -- it had almond milk, cardamom, vanilla and blackberries, all stuff I'd never have thought to put together, but it was great! Not too heavy but I felt like I had enough to start my day.
For lunch I had the Spicy Dan Dan Noodles. What surprised me most was how crunchy the bok choy and cabbage stayed after microwaving. Every individual ingredient tasted like it would have if I'd cooked it fresh, which I definitely wasn't expecting from a frozen meal.
Tuesday
Between meetings, I heated up the Roasted Garlic Cauliflower Soup as a snack. It had tons of flavor and was much more filling than I anticipated from a soup!
For dinner, I tried the Peanut Tofu Bowl. It was an amazing combination of feeling really healthy but also tasting great. It reminded me of Thai takeout and even had charred pineapple and crushed peanuts on top.
Wednesday
For lunch I had the Harissa Jackfruit Bowl. This one was definitely my favorite! I'm a big fan of jackfruit and love its versatility as a meat substitute. On the whole, it was super flavorful and hit all of my favorite notes with the acidity from the pickled red onions, the umami from the tahini, and the added texture from the almonds!
Thursday
I had the Sundried Tomato & Everything Oats for breakfast. I loved that it had spinach, tomato, pumpkin seeds, and walnuts all in it because it felt like a really balanced meal, which is usually hard to do at breakfast outside of making a smoothie.
Friday
The Yellow Dal Curry was honestly just as good as when we order takeout Indian. And with lentils, spinach, and butternut squash, it felt super healthy and nutritious too.
What I Loved:
Mosaic was definitely unlike any other frozen meals I've had. Every meal had amazing ingredients you can tell are fresh, not just because of the taste but the textures too. The vegetables had actual crunch, and even the noodles (like in the Spicy Dan Dan Bowl) were nice and chewy, instead of all being a sort of soggy mush like most frozen meals.
The flavors were great across the board, and were all dishes I feel like anyone (plant-based or otherwise) would want to try! I think plant-based or vegan foods tend to have a reputation for being boring or flavorless which is not true at all, so I love that their menu really shows what's possible for plant-based food.
They were also super convenient. Everything I ate I heated up in 5 minutes or less in the microwave, and since their meals come frozen, I didn't have to worry about eating them in a rush since they wouldn't go bad. And when finished, all I had to do was rinse the cardboard tray and throw it in the recycling.
Speaking of which — their packaging! I love to buy from brands that care about sustainability, so Mosaic's thoughtful packaging was something else I really appreciated. From the box it came in, to the meal trays themselves, they made it really easy to recycle. Plus, since they use dry ice, there were no ice packs to have to drain and throw away, which always feels like such a hassle with any food deliveries.
Beyond their actual meals, I really love what Mosaic stands for. I think it's so important for companies to be mission-driven and give back to the community, and it's obvious that they're really trying to make a positive impact with their brand. One of my favorite things about them is that they donate to City Harvest, an organization that helps people struggling with hunger. So for every box of Mosaic sold, they rescue 2 pounds of healthy food for New Yorkers in need.
All in all, I absolutely loved having Mosaic during the week, and am so amped they're finally out West. They 100% made life easier — it took essentially no effort for me to eat healthy, which is WILD when I think about everything I would have had to do otherwise to make that kind of meal myself. I can't wait to have these on hand in my freezer on my busy days, or when I just need a little break!