Mediterranean Tofu & Kale Salad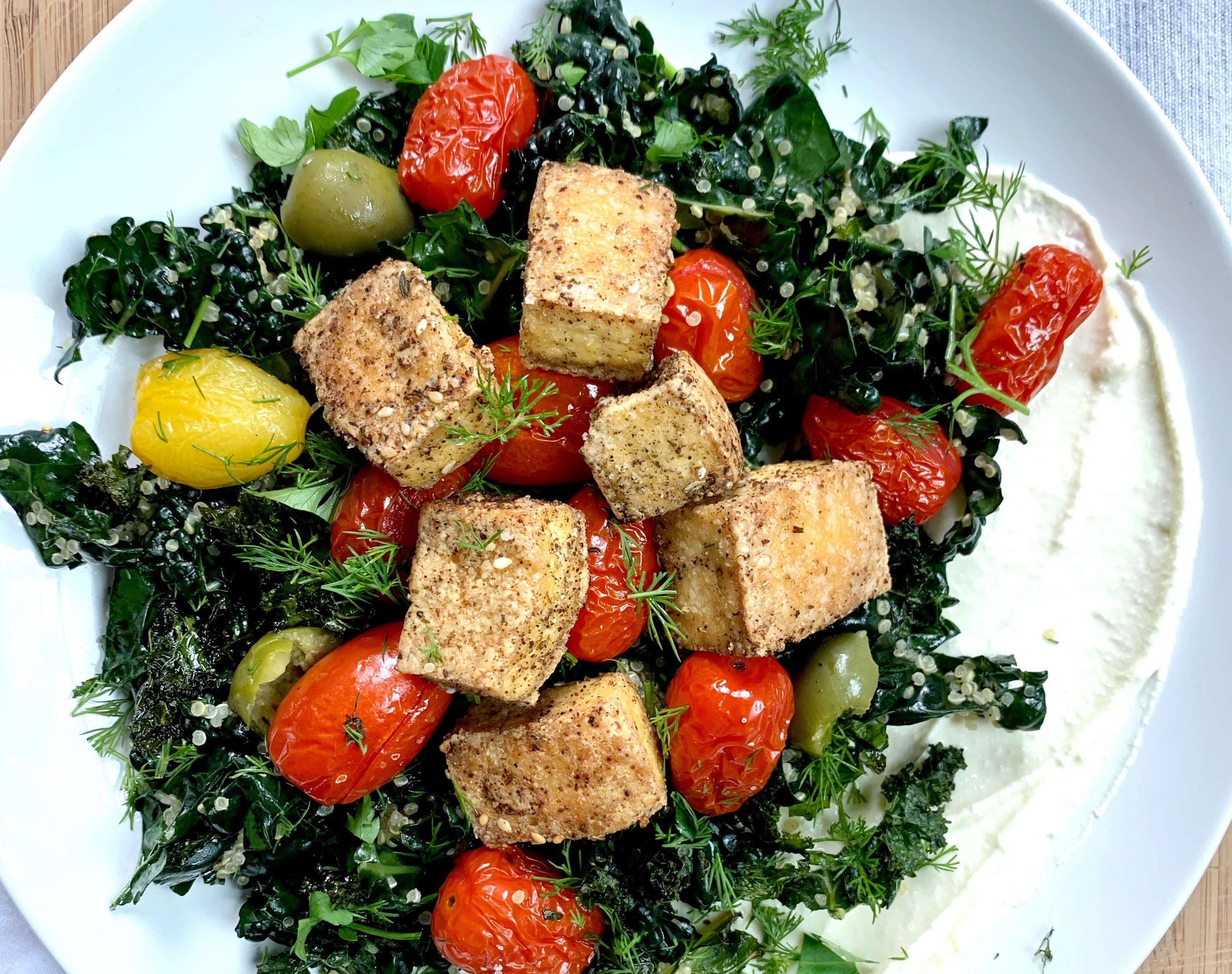 We took one of our favorite dark leafy greens—kale—and made it into a hearty salad bowl, infused with Mediterranean flavors. The best part of a salad like this one is that it has enough staying power to enjoy it as a winter meal, yet calls for ingredients that are abundant and vibrant in late summer and early fall. In other words, there isn't a time of year when you can't enjoy this recipe.
We love kale so much that we used a combination of two varieties—one served raw and lightly dressed in a lemony vinaigrette, the other roasted until almost chip-like. Those greens are tossed with protein-rich quinoa and serve as the base of this meal. Don't skip the step of massaging the Lacinato kale. We know, it sounds odd to massage your salad, but this will break down the leaves and help to transform them from that overly fibrous chewy texture to silk ribbons. Done well and this salad will convert kale skeptics.
Leaning into a Mediterranean flavor profile, we add parsley, dill, and buttery Castelvetrano olives. Roasted tomatoes are a must for a punch of flavor and juicy pop when you bite into them. Roasting them concentrates both their flavor and their good-for-you nutrients.
The final "topping" on the salad is crispy, oven "fried" tofu tossed in za'atar. There are a few keys to making sure that tofu comes out super crispy. First, preheat the baking sheet in the oven. This way when the tofu hits the hot sheet, it'll immediately start to crisp up on the bottom. Second, be sure to press the tofu for at least 10 minutes to draw out extra water. Don't press too long, though: if you go beyond 30 minutes, your tofu block could start to crumble. Third, consider taking the extra step and tossing your pressed, cubed tofu pieces in cornstarch—it helps to make a crispy end result more foolproof. Next, cook the tofu on the top oven rack and flip each piece over halfway through cooking. Crispy tofu is a key element in the hearty-bowl-salad formula: it adds literal heft, plus those fill-you-up nutrients protein and fiber, and also the crunch makes them feel a little like protein croutons. And who doesn't love a homemade crouton atop their salad?
Lastly, serve each salad portion over a generous smear of whipped feta for a creamy, briny addition to each bite of this meal.
Now, let's talk substitutions—because this bowl salad is quite flexible.
If you were to only use one type of kale, we recommend curly kale as it's a little easier and more foolproof to crisp up in the oven compared to Lacinato.
Any color quinoa works here—and although we show a traditional variety in the photo, red would be quite pretty.
We love the buttery, and slightly less briny taste of Castelvetrano olives, especially when paired with feta, but kalamatas would be deliciously Mediterranean too.
Don't have dill, or maybe have an abundance of parsley? Simply double up on one herb and skip the other altogether.
And if you really love za'atar, don't hesitate to sprinkle a little extra onto the tomatoes before they go into the oven.
Got leftovers? Store each element separately. The kale and quinoa mixture will keep for a day or two in an air-tight container in the refrigerator. The roasted tomatoes, whipped feta, olives, and tofu all need to go into their own containers. Roll the herbs in paper towels and store them in a dry place in the fridge. When you're ready to eat your leftovers, let each ingredient sit out until the chill wears off, and ideally until it comes up to room temperature. From there, compile or toss altogether and serve.
You could also easily double this recipe and make another 2 servings to eat later.
Meditteranean Tofu & Kale Salad
Serves 2
Ingredients
14 ounces Shiitake firm tofu
4 ounces (about 1 cup) feta
1/4 cup, plus 3 tbsp. Extra virgin olive oil, divided
1/2 cup quinoa
1 cup water
2 tsp. cornstarch (optional)
1 tsp salt, divided
1 tsp. za'atar
6 cups pre-chopped curly kale, loosely packed
2 cups (1 pint) grape or cherry tomatoes
1 bunch Lacinato kale, ribs removed and sliced into ribbons
1 tbsp. lemon juice
1/2 cup Castelvetrano olives, pitted and chopped
2 tbsp parsley, chopped
2 dill, chopped.
Directions
Place one large greased baking sheet in the oven and preheat the oven (with the sheet still in there) to 425 degrees.
Wash and dry all produce, slice the kale and tomatoes and chop the herbs.
Drain the tofu. Place the tofu block on a clean kitchen towel or paper towels. Cover with another towel and place a heavy skillet on top to weigh it down. Let the tofu drain for at least 10 minutes, and up to 30 minutes.
In a food processor, process feta and 1 tablespoon oil until consistency is smooth and spreadable. Set aside.
Meanwhile, combine quinoa and water in a small saucepan and cook per package instructions.
Cut tofu into 1- to 2-inch cubes, transfer to a mixing bowl, sprinkle with 2 teaspoons cornstarch, if using, and toss until the tofu is covered evenly. Then sprinkle with za'atar and ½ teaspoon salt. Toss to coat.
Transfer tofu to the pre-heated, and greased baking sheet. Bake for 15 to 20 minutes until tofu is golden brown and crispy around the edges, carefully turning tofu over halfway through.
In a medium mixing bowl, toss curly kale, 2 tablespoons olive oil, and ¼ teaspoon salt. Transfer to one half of a second large baking sheet. On the other half of the same baking sheet, add tomatoes, drizzle with 1 tablespoon olive oil, sprinkle with 1/8 teaspoon salt. Place in pre-heated oven and cook for 15 to 20 minutes until kale is crispy and tomatoes are slightly shriveled.
In a large bowl, combine Lacinato kale with 3 tablespoons olive oil and gently massage with hands until leaves appear shimmery. Toss with 2 tablespoons lemon juice and salt to taste. Let sit about 5 minutes. Toss 1 cup cooked, warm quinoa with raw kale (kale will wilt slightly), then add olives, parsley, dill, and cooked kale and gently toss to combine.
Divide whipped feta mixture evenly among 2 plates (about ¼ cup each), spreading it to form a circular base. Top with equal amounts of kale, quinoa, and herb mixture. Add half of roasted tofu and tomatoes.