Our Favorite Summer Dips– with a Twist!
This trio of easy summer salsas is sure to impress your guests.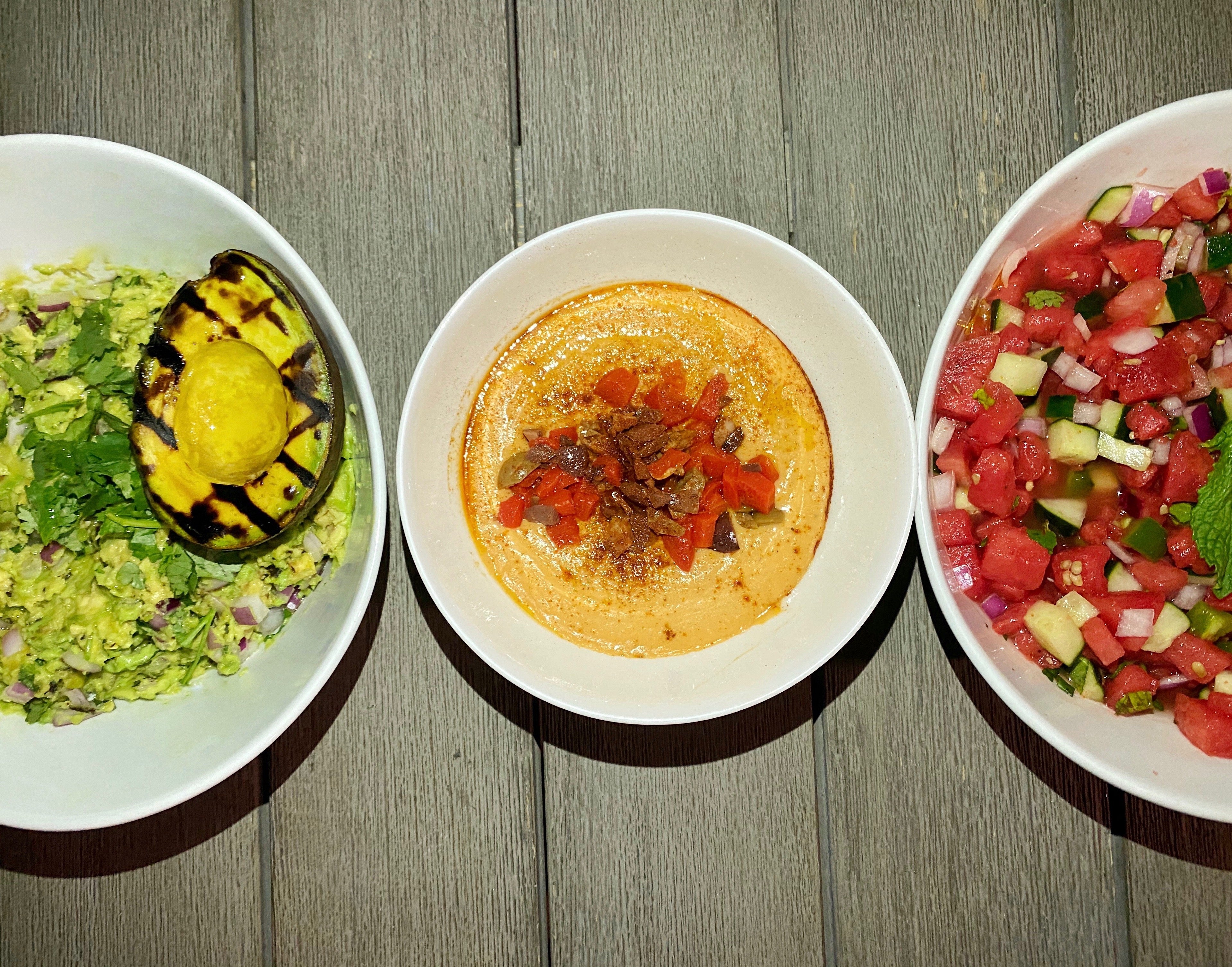 Move over classic salsa, basic guacamole, and traditional hummus. We like you and you still have a place in our hearts, but we've also refreshed the much-beloved trio and infused some freshness. Ideal for serving a small group of about four to six, the Watermelon-Cucumber Salsa is bright and refreshing, with just a touch of sweetness. The White Bean & Roasted Red Pepper Hummus is silky smooth and has deep flavors courtesy of roasted pepper, smoky paprika, and briny olives; and the Grilled Guacamole is creamy with a touch of citrus like your classic guacamole, but with hints of smokiness from grilled avocados. That's right—grilled avocados! It's impressively simple and doesn't require a grill per se if you don't have one. A grill pan in your kitchen will do the trick.
Although the dips differ quite a bit, we tried to overlap a few of the ingredients to slightly streamline both shopping and ingredient prep. You'll see these ingredients overlap:
Red onion. You'll need red onion in both the salsa and guacamole recipes. If you find a red onion that's particularly pungent, or you simply don't love red onion, prepare it as the recipe says and then soak your sliced, chopped, or diced onion in a bath of ice water for at least 10 minutes. Then drain and incorporate into your recipe.
Cilantro. This ingredient also appears in the salsa and guacamole. Here's a pro tip: don't spend extra time plucking the leaves off the stems. Chop them both up—the stems have just as much, if not more, flavor than the leaves. And it saves time! Still have extra cilantro to use? You could tweak the flavor profile of the white bean hummus slightly, and trade out the kalamata olives for cilantro (keep the chopped roasted red pepper, though).
Lime. You'll need both the zest and freshly-squeezed juice—aka nothing will go to waste here. It's easiest if you zest the lime first, then cut it in half and squeeze the juice out.
Don't want to make all three dips? Make one—or even two—for a smaller spread. Each recipe is written separately. Also, a single dip, or a pair of dips, would make for great anchors to a snack-style dinner spread. Select which dip, or dips, you want to make and then round out the "meal" with tortilla or pita chips; freshly sliced veggies like cucumber, sugar snap peas, even jicama spears; and your favorite nuts (we're partial to pistachios and marcona almonds as they'll pair well with any of these dips).
Ready to dive in? Here are a few suggestions to make the most of each recipe.
Be sure your watermelon is ripe, but not too ripe. You want to pick one that feels heavy for its size and ideally has a creamy yellow splotch on it somewhere (from where it was resting on the ground). Tap it and there should be a deep hollow sound (a dull sound means it's either underripe or overripe). Also, keep in mind that this salsa doesn't keep well, so plan to make just what will be eaten.
We like the convenience of using jarred roasted red peppers and their red pepper flavor is spot on in this dip. But if you're wanting a little more smokiness, DIY your roasted red pepper. Here's how: on a foil-lined baking sheet, place your whole peppers just under the broiler, and set it to high. Once the skin is blackened, rotate the peppers until all sides are charred. Transfer the peppers to a bowl and cover it with a plate or foil. After about 10 minutes, or when the peppers are cool enough to handle, uncover the bowl, peel the skins off the peppers, and seed and slice them. If you'd rather skip the Kalamata olives garnish (we know, they can be polarizing), top your hummus with a sprinkle of toasted pine nuts or chopped walnuts.
Grilling avocados is quite easy, but you'll want to stay close to the grill (or grill pan, if that's what you're using). They don't need to be on the grates too long, and depending on how low the low setting is on your grill, those avocadoes might only need a couple minutes. Once they're off the grill, let them cool before you add the remaining ingredients, and especially before you mix the cilantro and lime zest in as neither are as delicious once they've been heated into a dip.
This trio is also quite versatile. Here are ideas for how else to use or serve each of the dips.
Pair the Watermelon-Cucumber Salsa with simply seasoned white fish, chicken, or pork. Or, scoop a couple small spoonfuls into a little lettuce cup for a refreshing (and lower carb) appetizer.
Spread extra White Bean & Roasted Red Pepper Hummus onto a sandwich, or dollop it on top of your favorite grain bowl.
Amp up your taco salad with leftover Grilled Guacamole. Or smear a spoonful at the base of a tostada or taco.
Watermelon-Cucumber Salsa
Serves 4 to 6
Ingredients
2 cups diced seedless watermelon (about 1/2 mini watermelon)
1/2 cup finely chopped mini cucumber
1/4 cup diced red onion
1 Tbsp. seeded, diced jalapeno (about ½ medium jalapeno)
1 Tbsp. minced fresh mint
1 Tbsp. minced fresh cilantro
Zest and juice of 1 lime, divided
1 Tbsp. minced fresh mint
1/2 tsp. salt
1/2 tsp. sriracha (optional)
Directions
In a medium bowl, gently combine all ingredients together. Transfer to fridge and chill at least 30 minutes, draining extra liquid, if desired, before serving. Enjoy with tortilla chips or another dipper of your choice.
White Bean & Roasted Red Pepper Hummus
Serves 4 to 6
Ingredients
1 (15-oz.) can white beans (Great Northern or Cannellini), drained and rinsed
3 Tbsp. extra-virgin olive oil, divided
2 cloves minced fresh garlic
1 quartered jarred roasted red pepper, divided (or a full 3/4 cup)
1/4 tsp salt
1/4 tsp ground pepper
1/4 cup pitted, chopped kalamata olives
1/4 teaspoon smoked paprika (optional)
Directions
In a medium food processor, add white beans, 2 tablespoons of olive oil, and garlic. Puree until well-blended, but not quite smooth. Add three-quarters (or 1/2 cup) of the red pepper (set aside the remaining quarter for later), salt and pepper, and continue to process until smooth. Drizzle in 1/2 tablespoon olive oil, as needed
Roughly chop remaining quarter of red pepper. Transfer hummus to medium serving bowl and top with red pepper and olives. Sprinkle with paprika, if using. Refrigerate until ready to serve. Serve with pita chips or fresh vegetables of your choice.
Grilled Classic Guacamole
Serves 4 to 6
Ingredients
3 medium avocados
1 Tbsp. olive oil
Juice of 1 lime
Zest of 1/2 lime
1/2 tsp. salt
1/4 tsp. ground pepper
1/4 cup diced red onion
2 Tbsp. minced fresh cilantro
Directions
Heat a gas or charcoal grill or grill pan on low heat. Cut each avocado in half lengthwise, leaving the skin on, and remove and discard the pit. Lightly brush each avocado half with oil. Some oil may be leftover.
Place the avocados cut-side down on the grill. Cover and grill until heated through and grill marks appear, about 3 to 5 minutes.
Let the avocados cool slightly. Using a spoon, scoop the flesh out of the skin and transfer the avocados to a large bowl. Add lime juice, salt, and pepper, and smash with a fork. Then add onion, cilantro, and lime zest. Serve immediately with chips.