The R&D Diaries: Vegan Penne Vodka with Ereka Vetrini
Announcing our latest Mosaic+ collaboration with star chef, producer, social media star, and super mom Ereka Vetrini.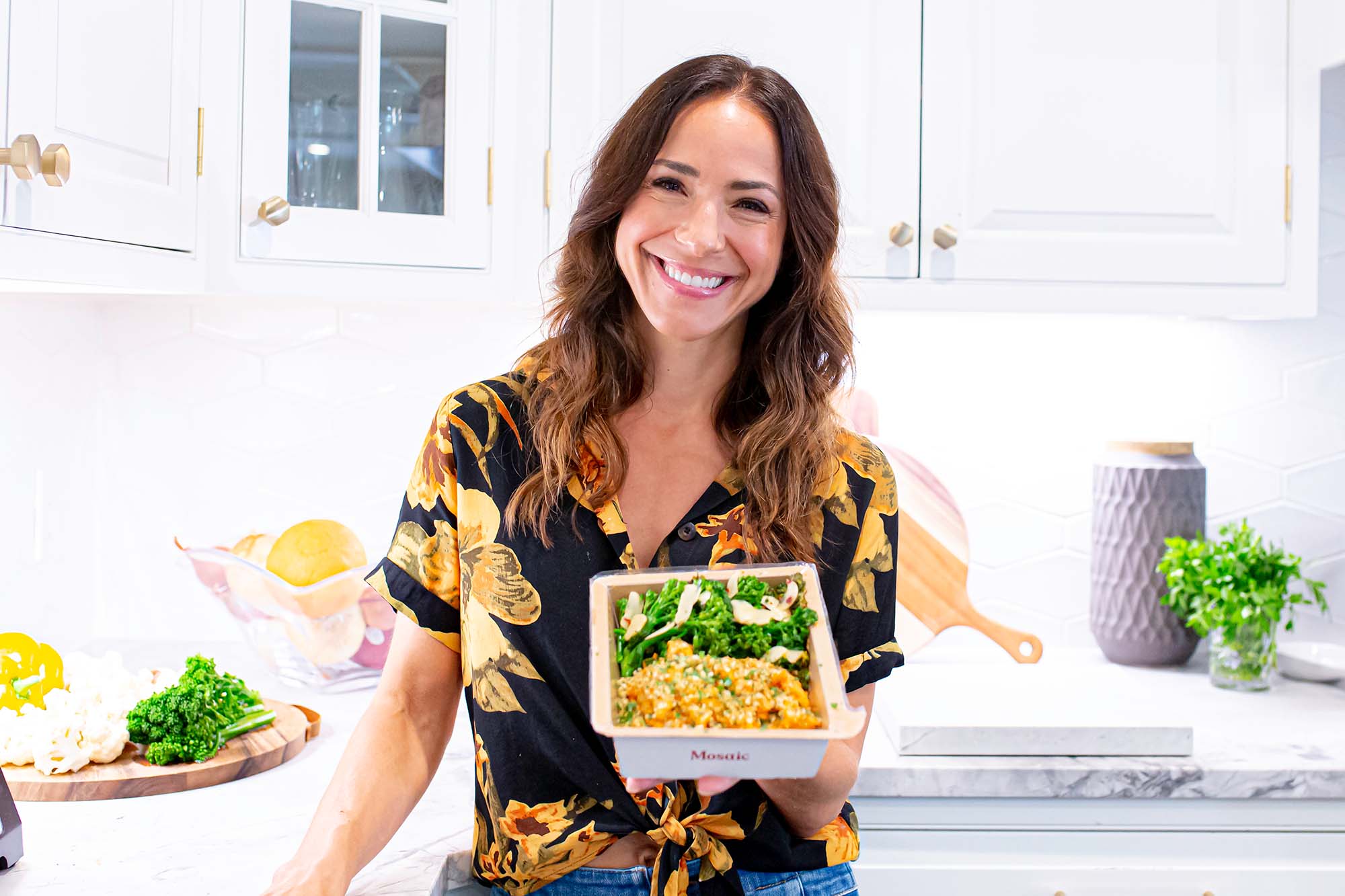 I'm so excited to announce our latest Mosaic+ collab with Ereka Vetrini (IG: @erekav; TikTok: @erekasfood) — superstar TV host, food blogger, content creator, influencer and mom. In addition to being a TV fixture (she's the host of Lifetime's Access Health and a regular on-air correspondent for NBC), Ereka comes from a deep food background and is an absolute inspiration when it comes to Italian cooking and flavors. I've been following her amazing TikTok page for ages and I'm always super impressed with her incredible recipe tutorials, so I was incredibly excited to collaborate with her on our latest Mosaic+ dish: Vegan Penne Vodka.
Ereka and I started our collab with a brainstorm call to chat through recipes we could work on together. As you may have seen from her TikTok, her roster of Italian recipes goes deep — and we had so much fun working together to decide how to translate her amazing home cooking to the frozen format. We talked through the potential to bring tons of her dishes to life — from a hearty Pasta e Fagioli to a rich Cacio e Pepe — but eventually decided to riff on a vegan-ized version of her famous Penne Vodka.
Next, I headed out to Ereka's kitchen in Connecticut to bring our mutual vision to life. We had so much fun working together in her kitchen and playing with various ingredients to create a vegan version of Penne Vodka that was just as rich, creamy, and savory as the original. Ereka had some amazing tricks up her sleeve to vegan-ize the classics. Most notably, she showed me how to create a dairy-less vodka by blending healthy cauliflower, pine nuts, and roasted garlic. It's both perfectly creamy and true to her Italian roots — and, as an added bonus, it's packed with veggie-forward nutrients and absolutely guilt-free.
As most Italian food aficionados know, Penne Vodka isn't usually a particularly veggie-rich dish. So in addition to the cauliflower 'vodka' sauce, we decided to brighten things up with some greens. We initially tested the recipe with some lemon-y broccoli on the side, but eventually decided that a sauteed medley of escarole, spinach, and chopped broccolini layered within the dish was the perfect healthy accompaniment to an already nutrient-rich dish.
A few weeks after our cook sesh, I sat down with Ereka to debrief on our experience cooking together and talk shop. Here's what she had to say in our (mini) interview:
What excited you most about working with me (and Mosaic) to develop a meal?
I'm a huge fan of Mosaic meals. High quality, delicious food gets me excited and Mosaic is just good food, plain and simple. The ingredients are fresh and interesting, the meals are excellent, and the chefs they collaborate with are so talented. Plus I was a vegetarian for several years, so I have a soft spot for vegan & vegetarian cooking.
What surprised you the most about the development process?
The fact that there weren't any 'no's. I never heard, "sorry we can't do that." Because Mosaic meals are frozen, I thought there might be lots of ingredients we couldn't use or cooking techniques we'd have to avoid, but that wasn't the case. This meal is made with fresh, high quality ingredients. We used some pretty advanced cooking methods. The whole way, the sky was the limit. So I felt really empowered to bring a dish to life with a lot of complexity of cooking and depth of flavor.
What was the inspiration for the Vegan Penne Vodka dish? What ingredients or cooking methods in the dish do you think might be new for Mosaic customers?
For most vegans, Penne alla Vodka is out of reach because it's all about the creamy texture created by the dairy in the dish. However, I recently created a vegan Cacio e Pepe that was incredibly "creamy" in texture and absolutely delicious. I believed I could do the same with Pene alla Vodka. To do that, we incorporated creamy blended cauliflower, plus pine nuts and garlic. We paired the veggie rich sauce with broccolini. It's a bright, colorful dish that I think vegans and non-vegans are going to love.
Tell us about the growth of your amazing TikTok presence — What inspired you to start sharing your recipes with the world?
It was my 12-year-old daughter, who had faith in me. I had been creating recipes and publishing them on my blog for years, but it wasn't until my daughter said, "Mom, you've got to get on TikTok," that I ever considered creating recipe videos. I denied her several times. It just seemed so crazy to me. But then one day during quarantine I said yes. That first video immediately blew up. It now has over 6.5 million views and I have over 540k followers.
It's so funny — in those early days, my daughter understood TikTok far better than I did. Now I understand it better than she does. TikTok's algorithm makes it relatively easy to gain organic growth if you are willing to consistently create new content. It rewards you for being, persistent and authentic. I just love that.
Wow! What recipe did you share in that first video?
I'll never forget it. I opened with "Home from school? Make your own lunch! Let's make homemade pasta and a sauce in 10 minutes." I demonstrated in true TikTok fashion how to make ricotta gnocchi and pesto. Quick and easy. That's what works on social media. Since then I've created hundreds of recipe videos and try to be as authentic as possible while cooking what I love.
What has it been like to share your recipes and lifestyle via social media platforms like TikTok? Do you think social media has changed how people connect over food?
It has been so incredibly rewarding in so many ways. I received a message the other day from a women who wrote,"my mom use to make me pastina when I was a child…just like you do. She's no longer with us. I've always wanted to be able to recreate that dish and now, thanks to you, I can." I immediately started to cry. Creating recipes is how I express my creativity. Cooking beautiful food is how I show my love. So to be able to do that and share with almost 800k followers is pretty amazing.
What advice would you give for aspiring content creators who want to start sharing their recipes with the world?
Just start. Start to do it, and do it the way that feels right for you. Don't be scared. Get good lighting. (Ereka laughs). Just jump right in. You'll evolve. And as you do, your audience will come with you. If you love it, do it. And there will be an audience eventually if you care enough about it.
Don't worry about it being perfect. In the beginning I got so caught up on all the little things. But it's fine. They don't matter. That's the beauty of social media these days. It's not all about perfectly-posed photos. You can be much more honest, more authentic, more real. It's OK to mess up — in fact, people like to see when I mess up. It's identifiable and so real, and that's what I'm all about.
What's your favorite thing to cook?
This may sound like a cop-out, but I like to cook whatever my guest's favorite meal is. I rarely cook for myself. I get the most pleasure out of a meal that whoever I'm eating with loves.
Thanks for reading — we're both excited for you to try our new Vegan Penne Vodka and can't wait to hear what you think!