The R&D Diaries - Veggie Kebab Platter with Pierce Abernathy
I was thrilled to have the chance to collaborate with Pierce for our newest Mosaic+ meal and incorporate his bright, fun-loving food ethos into the Mosaic mix.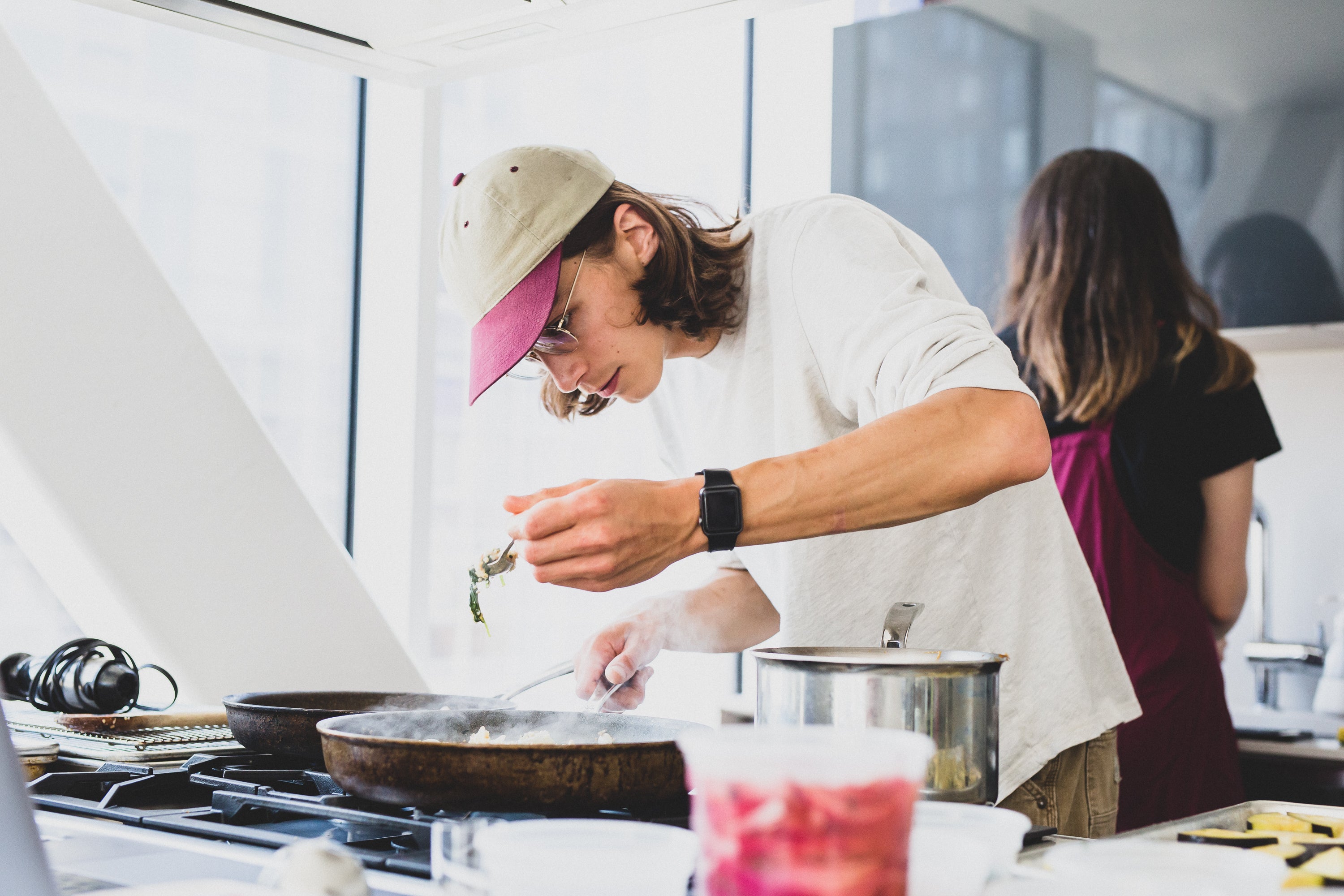 If you're familiar with Pierce Abernathy, then you've probably already seen — and fallen in love with — his mouthwatering videos and recipes. Hallmarked by their satisfying, minimalist style, zero music (just ASMR-worthy sound bites), and close-up shots of fresh, natural ingredients, Pierce's videos highlight how simple, and delicious, cooking can be.
With almost 500,000 combined followers on his Tiktok and Instagram accounts, and over 2 million likes on the former platform, it's not difficult to see how Pierce found success transitioning from working behind the scenes as a food content producer to creating a cult following of his own fan foodies.
Needless to say, I was thrilled to have the chance to collaborate with Pierce for our newest Mosaic+ meal and incorporate his bright, fun-loving food ethos into the Mosaic mix. Pierce himself describes his cooking style as 'fun and approachable' — two things I also consider essential in the kitchen! I knew even before we started that we'd have an amazing time cooking together.
On our initial brainstorm calls, Pierce had shared that his Armenian heritage was a major inspiration for him in his cooking — so one of our top priorities was to make sure those influences would be apparent in his Mosaic meal. After a bit of brainstorming, we landed on 2 dish ideas to develop in the kitchen:
Veggie Kebabs with Bulgur, Eggplant Stew and Pickled Onions
Armenian Lentils with Braised Cabbage, Roasted Carrots & Seedy Granola
Both dishes incorporate signature Armenian-used grains like bulgur (made from cracked wheat berries) and lentils, and lots of hearty vegetables. What stood out to me most about his recipes were the contrasting elements: the tartness of pickled peppers against the savory granolas in the lentils dish; or the tender warmth of the eggplant complementing the crisp lightness of the pickled onions in the kebabs.
As we whipped up test versions of each dish, we initially decided to include a dollop of tahini in both. The tahini complemented the kebabs really well, but ultimately, we had to nix it. Adding it to a fresh-cooked dish tasted great, but once we graduated it to the microwave testing phase, the tahini congealed, and its flavor got completely lost in the rest of the dish.
After a bit more back and forth and experimenting between the two dishes, we decided to move forward with the veggie kebabs. There's nothing else like it that exists on our menu currently, and it had a standout identity as a meal — not to mention the taste was absolutely divine! We rolled the kebabs in a blend of warm spices before cooking them, then served them over a bed of roasted eggplant stewed into a delicious, garlicky tomato sauce. The bulgur added a hearty dose of protein, and we topped it all off with mint, cilantro, and parsley for some freshness, and of course, the pickled onions to give it that contrasting bite of tartness.
A few weeks after our cooking session, I sat down with Pierce again to hear his thoughts about the development process, and learn more about his evolution as a chef and food connoisseur. Here's what he had to say:
What excited you about working with Mosaic to develop a meal?
A lot of things! I think one, I always wanted to be able to share things that I cook with people, beyond just creating video content. Sharing recipes is one thing, but letting people enjoy the food that you've made is another. This gives me that opportunity. And overall, I got a chance to try Mosaic before all this, and in terms of flavor, quality, and price point, I really enjoyed what you all were doing. I'd tried other frozen and fresh meal delivery services and I think you guys are doing some of the most creative and fun flavors, and stuff that I'd personally be very down to eat regularly.
What surprised you the most about the development process?
The most surprising thing was just trying to think about recipes and development on a larger scale, in a meal-ready way. I think a lot of the recipes and the things that I've developed in the past have certain garnishes, certain ingredients that may not necessarily work for a large-scale process that Mosaic does. So just workshopping that with you and figuring out — if this is an ingredient that I did like and we can't use it, what would be a good swap? That was interesting to do. One surprise on that front though was the pickled onions! That was one ingredient I thought for sure wouldn't work in the microwave, but since they're flash frozen, the quality was amazing.
What was the inspiration for the Veggie Kebab Platter?
My dad's side of the family is Armenian and we grew up eating a lot of Mediterranean flavors. I love falafel and I think of it as a go-to quick lunch. But ultimately in the development process we realized that falafel wasn't the best move, but we still wanted that protein-packed heartiness. Being able to recreate that with lentils and chickpeas worked out really well. The flavors are really strong.
How did you get into food/content creation?
I had a lot of free time on my hands during the pandemic. Reels had just launched on IG. And a friend and I challenged each other to make a reel, so I made an eggplant dip. And I thought, Huh, this is a fun creative challenge that I can do in an hour or so. It felt organic, messy, fun, lighthearted. I really enjoyed the process of making that first reel and thought, maybe next week I'll make another one. I did it again and saw that more people were seeing the content than the other things I was posting. I just used it as a creative outlet to test and cook and share different ideas.
What's it like to do social media full time?
Very wild. A million hands in a million different pots. But you want to grow and test more opportunities and try different things. At the end of the day you have this audience you've built. So you have to maintain it as you develop and try and test new things. It's been a fun challenge.
How has your cooking style evolved as you've grown your social media presence? What's stayed the same?
I feel like I've been really ingredient-focused. Before I was sharing these recipes I wasn't approaching a meal or a dish from the perspective of the ingredients. Now my approach is: here are the ingredients I want to work with — now let's build a dish around it. Previously, when I was in the mood for something, I just cooked it. Now, the challenge is to find a hero ingredient and ideate based off of that.
Where do you get your hero ingredients?
Farmer's market, grocery store. I brainstorm and think seasonally. It helps me keep things new and fresh, and it's also just the way I eat and how I want to promote seasonal ingredients.
What's your favorite recipe that you've ever shared?
I have a few. I don't know if I have a favorite. I can't choose! I made some zucchini and leek fritters that I really really loved. There's a phenomenal Iranian eggplant dish called kashke bademjan that I made that I really love as well. And I've made so many now that I really don't have a favorite. I can't decide! It's much more test and learn. If I look back at something and it's not perfect, that's fine. I see it as a diary of me in the kitchen, more so than a collection of perfect recipes.
You're known for your dips and on a self-proclaimed quest to find the perfect dip. What does the perfect dip look like to you?
For me, it rides the line of various flavors and textures. I want something salty, smoky, spicy, with a little bit of sweetness. It needs to have this umami, rich, flavor. But I also need to be able to taste the nuances of each ingredient. So maybe the base is a salty spicy thing that you then top with fatty cheese, or sweet fruit, or caramelized or maple glazed nuts. I like various textures, fresh tastes, and cooked tastes. But it all depends on the ingredients as well. There are so many different dips with different flavor profiles and that's what's exciting. It's a quest that I can never finish — which I'm okay with. If your life goals are achievable, you're doing it wrong. Because what happens if you achieve them? Then what? You need unattainable goals so that you're always on the journey.
What advice would you give people who want to get into the food space?
First of all, find out what your style is. Find out what you really like to make. Regardless of what you're posting, in order to do it consistently, you need to enjoy what you're doing. So make sure you like the food. But also do your research and find a niche that hasn't been tapped into yet. Find something to help you stand out. Being a personality is huge too. There are so many recipes and videos out there that personality can help you stand apart.
Thanks for joining us on the journey — we're incredibly excited for you to try our new Veggie Kebab Platter and can't wait to hear what you think!