Get

your first box of easy, plant-powered meals.

At Mosaic, we're on a mission to make it easier for everyone to eat more plants. So we've partnered with Chef Pierre Thiam of New York's Teranga to bring one of his favorite veggie-packed dishes to your table: ndambe, a flavorful Senegalese stew paired with okra, sweet plantains, and fonio.

With over 30 more delicious plant-powered favorites on our menu, you've got plenty to choose from. Sign up for Mosaic today and try dishes from Pierre and other top chefs!
Our 100% Guarantee:
If you don't love your meals, we'll issue a full refund, no questions asked.
How it Works
Plant-powered meals from Pierre Thiam and other incredible chefs, delivered to you and ready in 5.
Choose your meals
Select from tons of delicious, healthy frozen meal options — including selections from Pierre Thiam.
Pick your plan
Choose your delivery frequency and skip or cancel at any time.
Receive your delivery
Next-day frozen shipping in 100% recyclable packaging.
Heat & enjoy
Our delicious meals microwave from frozen in five minutes or less.

We do the cooking. You do you.
We work with Pierre Thiam and other top chefs to bring you plant-powered options that fuel your day — morning, noon, and night.
Breakfast
Breakfast that fits your schedule — and your diet. Ready in under 3 minutes and packed with over 10g of plant-based protein, our zero-prep oat bowls are crafted to kickstart your day.
Lunch
Lunches that keep you healthy, focused, and energized. Hand-cooked and veggie-powered, they're delicious, guilt-free, and ready in under 5 minutes.
Dinner
Spice up your dinnertime with plant-powered meals cooked by Pierre Thiam and other amazing chefs.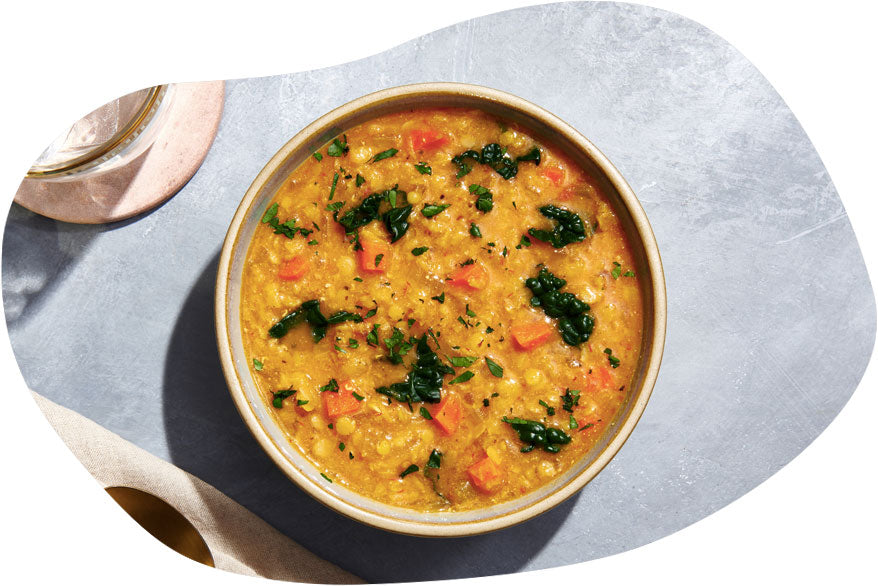 About Pierre Thiam
Mosaic is proud to present our first-ever guest chef: Pierre Thiam! Pierre is a world-renowned chef who's making his mark on the world as an author, activist, and restaurateur. He brings an intentional approach to food not just as a means to feed; but to connect, teach, and advocate.
Pierre's recipes pay homage to his Senegalese roots, and his culinary impact spans across continents — He is executive chef of two highly regarded fine-dining restaurants in Lagos and Dakar, along with his very own New York City fast-casual restaurant, Teranga.
Most recently, he co-founded Yolélé Foods, a mission-driven company that connects smallholder farmers in West Africa with local and global markets. You can find its signature product, Yolélé fonio, in this Mosaic bowl!
Together, Pierre and Mosaic's head chef Christine pulled off the impressive feat of developing this bowl 100 percent virtually — a result of careful collaboration, coordinated grocery lists, and plenty of Zoom cooking sessions. From our tiny test kitchens to your table, we sincerely hope you enjoy it.


Satisfaction guaranteed.

Seriously.

We want every customer to have an amazing Mosaic experience. So we have a simple policy: if you don't like your food, we'll give you a refund, no questions asked.
Best premade meals I've ever had
I'm a busy doctor with no time to cook, and have tried numerous prepared meal services. I'm not even vegan, but this is the best service I've tried by far!
Giving up meat
I have high cholesterol and my doctor recommended that I reduce my red meat intake. I decided to try Mosaic for a few meals a week, and I've been blown away. Not missing my steaks — the flavor is amazing and I feel better than I have in years.
Excellent quality
I get Mosaic every two weeks and LOVE it! It was a lifesaver during the pandemic and I've stuck with it ever since because the quality of the meals is just that good.
Surprisingly good
I was skeptical at first because I've had some not-so-great experiences with meal delivery services. But now I'm a convert. Super healthy meals, incredibly easy to make, and they taste great. Now I'm a regular customer.