Mosaic+ Veggie Bowl
$11.99
Cauliflower Tikka Masala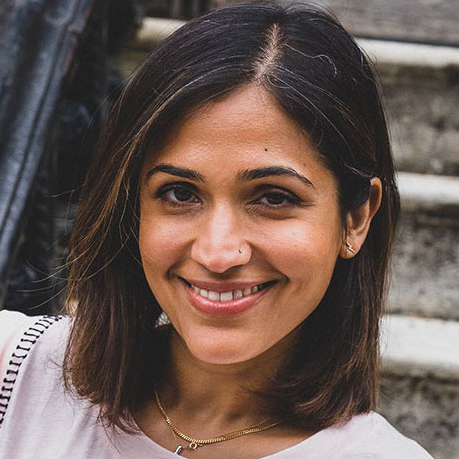 by Kanchan Koya
Kanchan Koya, chef, author, and Ph.D. in Biomedicine, shares her swoon-worthy, veggie-fied version of an iconic tikka masala. Featuring tender, yogurt-marinated cauliflower florets smothered in a rich, cashew cream tikka masala sauce, it's spiced with all the good stuff: cumin, coriander, garam masala, and a dash of smoked paprika for added punch. Served alongside golden quinoa simmered with curry leaves and turmeric and peppered with cilantro and crunchy pepitas, this is one creamy, dreamy, crowd-pleaser of a dish.
About Kanchan Koya
Kanchan Koya is on a mission to demystify healing spices through flavorful and delicious recipes. After becoming a mother, she created Spice Spice Baby, a platform and cookbook dedicated to shedding light on the health-boosting powers of spices. She has a doctorate in Molecular Biology from Harvard Medical School and training from the Institute of Integrative Nutrition – expertise that drives her belief that food can be our best, most powerful, and most delicious medicine.
She shares her spice wisdom and tons of amazing recipes from her home kitchen on Instagram at @chiefspicemama. Follow along!
Real. Good. Food.
Our meals are packed with natural, good-for-you ingredients and nothing artificial, ever.
Nutrition Facts
Servings:
  1,  
Serv. Size:
  1 bowl (395g),  
Amount Per Serving:
Calories
 490,  
Total Fat
 22g 
(28% DV)
,  
Sat. Fat
 3g 
(15% DV)
,  
Trans Fat
 0g,  
Cholest.
 5mg 
(2% DV)
,  
Sodium
 830mg 
(36% DV)
,  
Total Carb.
 54g 
(20% DV)
,  
Fiber
 10g 
(36% DV)
,  
Total Sugars
 10g  
(Incl. 0g Added Sugars, 0% DV)
,  
Protein
 23g
(46% DV)
,  
Vit. D
(0% DV)
,  
Calcium
(17% DV)
,  
Iron
(36% DV)
,  
Potas.
(24% DV)
. 
Ingredients
Ingredients: Cauliflower, Cooked Quinoa, Greek Yogurt (Grade A Pasteurized Skimmed Milk, Live Active Yogurt Cultures (L. Bulgaricus, S. Thermophilus, L. Acidophilus, Bifidus, L. Casei)), Tomatoes, Water, Spinach, Onion, Cashews, Pumpkin Seeds, Safflower Oil, Garlic, Spices, Cilantro, Ginger, Salt, Potato Starch, Curry Leaves.
Contains: Milk, Cashew
How to Enjoy
Microwave: Remove from carton and peel up a corner of the plastic film to let steam escape. Microwave for 5 1⁄2 - 6 1⁄2 minutes, or until internal temperature reaches 165° F. Stir to mix ingredients
Stovetop: Combine 1 teaspoon of neutral oil and 1 tablespoon of water in a nonstick skillet over medium heat. Add tray contents; cover and heat for about 7 - 10 minutes, or until internal temperature reaches 165° F, stirring often.