Bowl
Jackfruit Chili
If you like your chili chock-full of veggies and flavor, then you've come to the right place. Our Jackfruit Chili is loaded with over five types of peppers, three types of beans, hearty hominy, and meaty (but vegan!) jackfruit. Our chefs kick it up with ancho, chipotle, poblano, and jalapeño peppers for some balanced spice. Served with brown rice, charred corn, and a sprinkle of cilantro, it's all you could want in a chili, and more.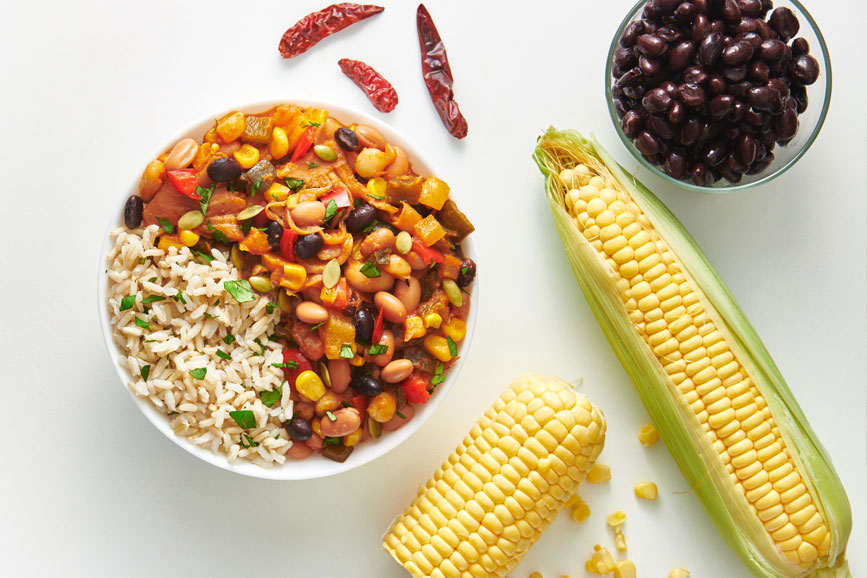 Variety is the spice of life
Name any pepper and there's a high chance you'll find it in this bowl. We have orange, red, and yellow bells, poblanos, jalapeños, chipotle and dried pasilla and ancho peppers. Each of these delicious peps brings its own unique quality to the table – texture, sweetness, smokiness, and spice come together for a complex and balanced flavor profile that'll keep you coming back for more.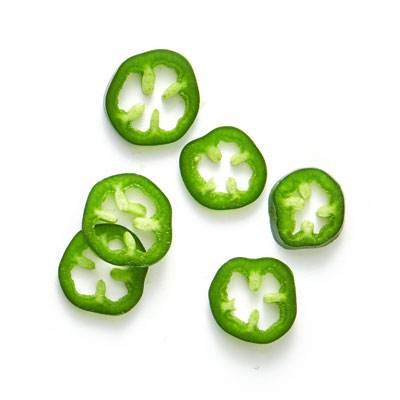 Jalapeño
Did you know that jalapeños are rich in vitamins A, C and potassium? They add a boost of nutrition and a mild kick to the mix in this chili.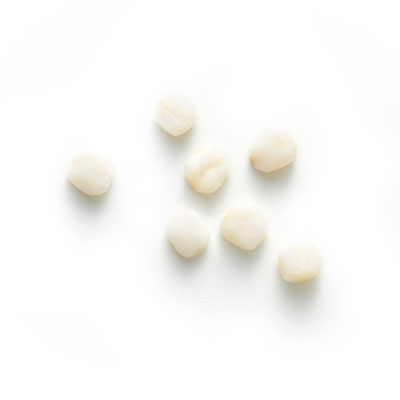 Hominy
Hominy is a type of maize made from soaking whole corn kernels to soften the outer hull. This makes for big, fluffy grains that have a soft bean-like texture.
Real. Good. Food.
Our meals are packed with natural, good-for-you ingredients and nothing artificial, ever.
Nutrition Facts
Servings:
  1,  
Serv. Size:
  1 bowl (399g),  
Amount Per Serving:
Calories
 310,  
Total Fat
 8g 
(10% DV)
,  
Sat. Fat
 1g 
(5% DV)
,  
Trans Fat
 0g,  
Cholest.
 0mg 
(0% DV)
,  
Sodium
 840mg 
(37% DV)
,  
Total Carb.
 53g 
(19% DV)
,  
Fiber
 11g 
(39% DV)
,  
Total Sugars
 8g  
(Incl. 0g Added Sugars, 0% DV)
,  
Protein
 10g
(20% DV)
,  
Vit. D
(0% DV)
,  
Calcium
(5% DV)
,  
Iron
(24% DV)
,  
Potas.
(10% DV)
. 
Ingredients
Cooked Brown Rice, Poblano Peppers, Water, Yellow Bell Peppers, Organic Jackfruit (Organic Young Jackfruit, Water, Sea Salt, Organic Lime Juice), Crushed Tomatoes (Fresh Tomatoes, Salt), Corn, Cooked Hominy, Onion, Red Bell Peppers, Organic Black Turtle Beans, Organic Pinto Beans, Organic Great Northern Beans, Pumpkin Seeds, Cilantro, Safflower Oil, Garlic, Jalapenos, Spice, Salt, Smoked Red Jalapeno, Ancho Pepper, Kombu Seaweed, Pasilla Pepper, Carrot, Vinegar, Sugar, Potato, Canola Oil, Natural Smoke Essence, Xanthan Gum, Autolyzed Yeast Extract, Natural Flavoring.
How to Enjoy
Microwave: Peel up a corner of the plastic film to let steam escape. Microwave the meal on high for 5-6 minutes, or until it reaches 165° F. Stir well to mix ingredients.
Stovetop: Combine 1 teaspoon of neutral oil and 1 tablespoon of water in a nonstick skillet over medium heat. Add tray contents; cover and heat for about 7-10 minutes, or until internal temperature reaches 165° F, stirring often.