Meet Mosaic: Making Healthy, Satisfying Food Accessible to Everyone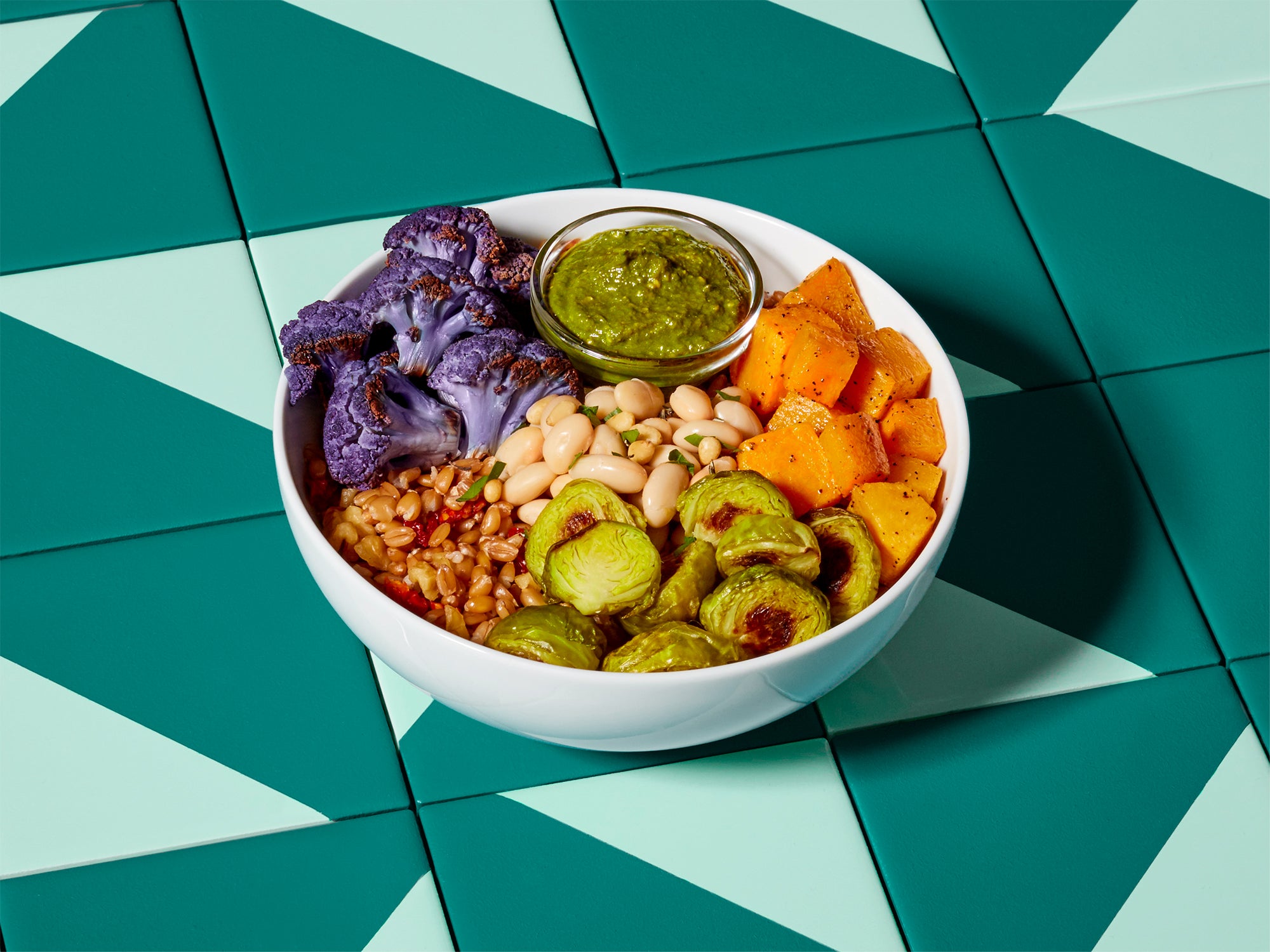 Hi there! We're Mosaic — and this is our blog! We'll be publishing quite a bit here — from our thoughts on food, to research, to freezing tips and meal reviews. But to start it all out, we figured we'd tell you a little bit more about who we are and where we came from.
Mosaic started back in 2018, when we (co-founders Matt, a flex-i-tarian, and Sam, an omnivore) were looking for a better way to eat. We both knew that a diet centered around vegetables and packed with whole, unprocessed foods would be healthier for us and better for our environment — but for us, eating right always came with compromises. The most nutritious of our meals were the most time-consuming to make, requiring hours of shopping, prep, and cleanup. Salads were healthy, but didn't leave us satisfied. And takeout, though tasty, was as bad for our bodies as it was for our wallets. We wanted a solution that checked every box: veggie-centric, ultra-convenient, and crave-able enough for an omnivore to eat night after night.
We very quickly realized that what we were looking for didn't exist — so we decided to build it ourselves. And we started with two key pillars that guide our cooking to this day:
The first is crave-ability. We knew that to change our habits, we needed to cook meals tasty enough that we'd look forward to eating them every day. After all, eating should be a joy, not a chore. Hearty vegetables, fresh fruits, and just plain good-for-you ingredients that tasted amazing — that was the goal.
The second is convenience. Even the best (and healthiest!) of intentions can be de-railed by the daunting tasks of recipe-hunting, prepping, cooking, and cleaning. So we resolved to create a zero-prep, no-cook solution — for less time in the kitchen and more time everywhere else.
We set up shop in Matt's Brooklyn apartment with the freshest ingredients we could find and started cooking our first line of meals. We went through hundreds of trials testing some of our favorite recipes. We started sharing our food with friends and family, and it got rave reviews. That's when we decided to turn our experiment into something bigger, move into a commercial kitchen, and officially start Mosaic.
To ensure our Mosaic meals would keep the top-notch taste our friends and family got to experience — and would be ultra-convenient for our customers — we decided to deliver them frozen. Not only does freezing lock in freshness and flavor, but it also keeps veggies crisp, retains good-for-you nutrients, and keeps our meals just as delicious as the day they were made.
In those first months as a tiny two-person operation, we decided on a simple set of rules that still guide Mosaic's cooking ethos to this day: a focus on wholesome, mostly-veggie ingredients; real recipes cooked by hand; portions that satisfy; and nothing artificial, ever. In honor of our roots — and to ensure that we hold ourselves accountable to these rules — the last step before we launch any Mosaic product is still to cook it — and test it for quality — in Matt's home kitchen.
"Mosaic started back in 2018, when we were searching for a better way to eat."
As we grew our operation and laid the groundwork for Mosaic's official launch, we learned quite a bit about the industry — including some deeply saddening facts about America's food system: 40% of food America buys goes into the trash, uneaten. Our country's fruit and vegetable consumption is on the decline. And millions of people struggle with hunger every year despite increasingly efficient food production. When we talked through these problems and what they mean for our world, we decided that it was our responsibility, as we built Mosaic, to help solve them. So we formalized our company's vision — to put good food on every table — and partnered with the non-profit City Harvest to rescue one pound of nutritious food and distribute it to New Yorkers in need for every Mosaic box sold.
We opened Mosaic to the public about four months ago, and we've already shipped thousands of boxes throughout the Northeast. We've been overwhelmed by the positive response from our customers, and are so excited to connect with folks across the country who believe in our vision and mission. We're looking forward to what's to come, and excited to spread Mosaic's ethos of good food for all to the world.