News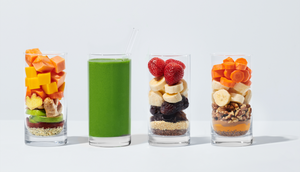 Today is the day! We have officially launched smoothies, our coolest product category yet. After tasting our lineup of 9 flavors, our resident dietician, Charlotte Martin weighed in on why they're so awesome:   When evaluating the nutritional quality of a new product I take a look at both the nutrition facts label, specifically the fiber, protein, and added sugar content, and the ingredients list. I first look for added sugar content, and, if there is any, I'd like to see sugar listed towards the end of the ingredient list. When it comes to smoothies, I'd look for little to no added...
Over the course of the past week, we've gotten many questions from our community about how we're handling the COVID-19 epidemic. So this morning, Mosaic co-founders Matt and Sam sent this note out to our customers to answer some of those questions. In short: the health and safety of our customers is, and will always be, our first priority.

Mosaic started back in 2018, when we (co-founders Matt and Sam) were searching for a better way to eat. As busy New York professionals, we were painfully aware of the trade-offs between health, convenience, price, and taste when it came to our food. No matter where we looked, we couldn't seem to find all four of these elusive virtues in one package. The healthiest of our meals were the most time-consuming — and the most expensive. The tastiest were the worst for our health. And the most convenient were bland and repetitive. We knew there was a better way, and we decided to find it.