The R&D Diaries: From Our Test Kitchen to Your Freezer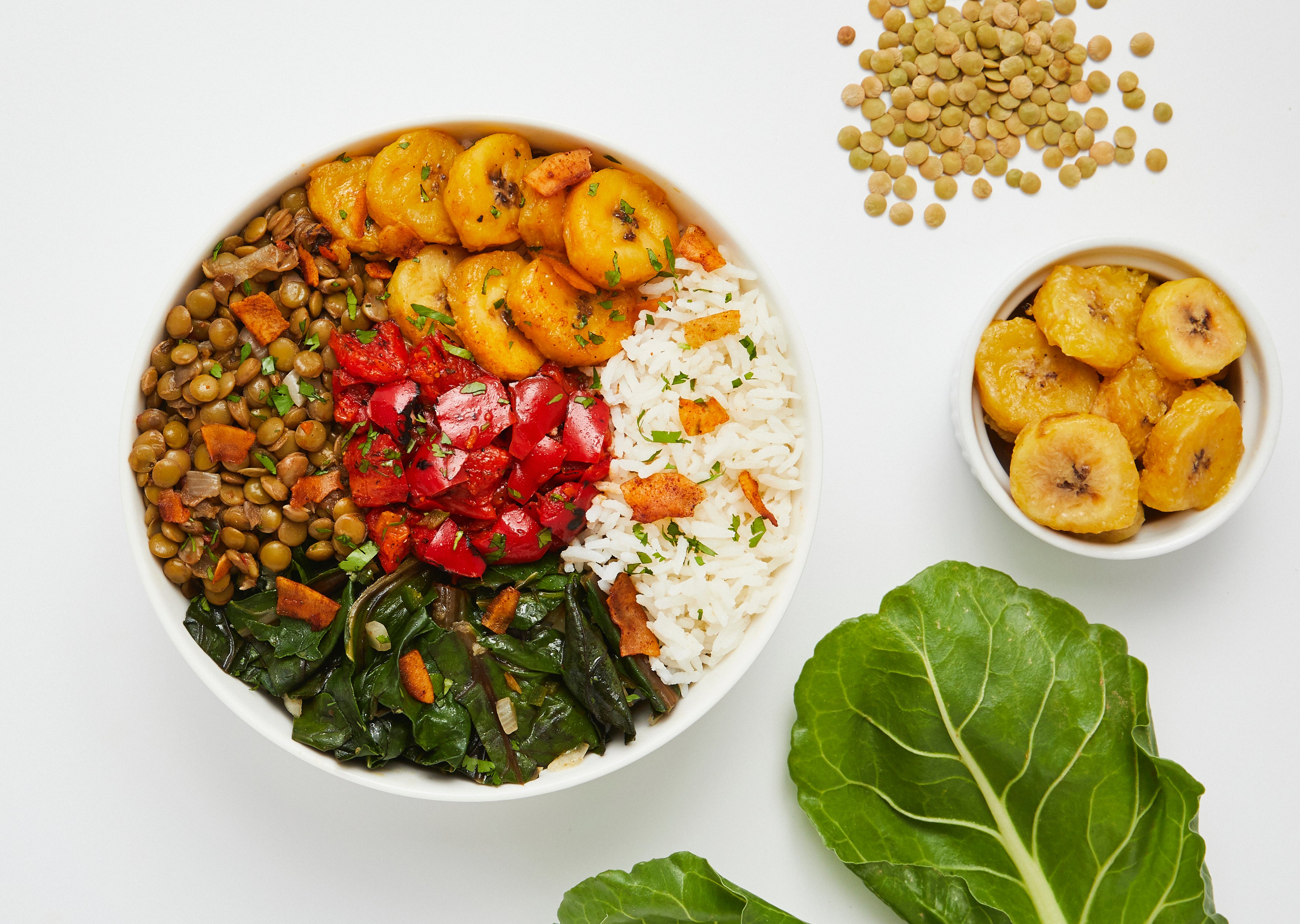 Christine here, head chef at Mosaic. When it comes to food, our goal has always been to bring you chef-quality plant-based meals in the easiest way possible. There's so much thought and precision that goes into every meal we offer, from the first ideation of a new product to the final box of orders delivered to your doorstep. That's why we're raising the curtain behind the research and development process — our very own R&D Diaries — to give you a glimpse into the life of one of our newest Mosaic meals, the Jerk Lentil & Plantain Bowl, from concept to creation.
Step 1: Inspiration & Exploration
This is the brainstorming phase, and the point at which truly anything is possible. There's no limit to the places I'll look for inspiration: sometimes it's by thinking about memorable flavors I've tasted recently, ingredients I've been working with, or fun themes and the arrival of holidays — and changes in weather always get my seasonal creative juices flowing. But if I'm feeling a little chef's block, scrolling through Instagram, Pinterest, and YouTube always helps spark new ideas, or helps me rethink a concept I've already got in mind.
Once I've got a batch of ideas floating in my head, I'll pen 10 concrete thoughts on paper and talk them over with our CEO, Matt — we chat about the possibilities of each, mulling over each one's strengths or pressure points. We always want to bring something new and fun to our customers, so we examine each idea with a critical lens — has this been done before? Does it excite us? Will it excite our customers?
We knew for one of our new concepts, we wanted to go for a bold flavor profile with tropical inspiration. So I started immersing myself in the world of jerk spices.
Step 2: Get Cookin'
Once we've settled on a few frontrunners from the list, I'll get to work in the test kitchen (also known as my apartment) to whip up two variations of each option. That way, we'll have a variety to taste-test and points of comparison from one meal to another. And, having two different base meals will make them easier to tweak later without having to start back from scratch again. Since this is the first opportunity for me to see my ideas come to fruition, I'll get really creative with my experimentation: I'll try out a variety of different grains, new spices, and throw all types of vegetables in the mix.
Me hard at work in the "Mosaic test kitchen" (my apartment)
Jerk Lentil & Plantain Bowl actually started out as a Jerk Tempeh concept. We were hoping that we could take the amazing smoky flavors and hearty textures of Jamaican jerk cooking and combine them with tempeh — a meaty protein substitute — to get a healthy, vegetarian take on a classic.
The Jerk Lentil & Plantain Bowl actually started out as a Jerk Tempeh concept
Once I've cooked up two different choices of each of the ideas, it's time to freeze the dishes to prep for the next step — a taste test!
Step 3: First Taste Test
Getting the team together for the initial taste steps is one of the most fun steps of the process. We'll sample all the options and narrow it down to our collective favorites. At this point, our main focus is to ensure all the ingredients mesh well and complement each other — as we taste, we're considering a few things: do they work in harmony? Which ingredients have star power? Is one overpowering any of the others? During quarantine, we've worked remotely, shipping taste tests to Matt in Virginia, and Sam in New Hampshire. I take full notes on what the team's loving and things that could be improved. The final result is a tentative first revision we call a "bench recipe."
During this particular tasting, we realized that tempeh just wasn't working in combination with our jerk spices. It didn't properly soak up the flavor of the spice blend, and the result was a just-ok substitute that didn't do its inspiration justice. We decided to swap out tempeh for flavorful, slow-stewed lentils and add in sautéed swiss chard for a leafy-green boost of nutrition.
Tempeh wasn't working well in combination with our jerk spices, so we replaced it with slow-stewed lentils
Step 4: Keep Tinkering
Bench recipe in hand, I go back to the kitchen to perfect the meal using the notes from our taste test. A little less of this, a little more of that — I'm more reserved now than in the initial cooking phase, as any modifications too drastic could kick us back to square one. Once I'm satisfied with the improvements, it's time to send the final recipe off to our Hudson Valley kitchen. Now's the time to finalize the details, like where to source the highest-quality ingredients from. Our sweet plantains, for example, come from an incredible three-generation family business in Miami called MIC foods.
Step 5: Rev the Engines
Once we've sent the recipe to our kitchens, they start working on producing the recipes at scale. Cooking for three is a different ball game than cooking for thousands — and tastes and textures sometimes tend to differ when meals are cooked in bigger quantities. That's why the team is constantly quality-checking and taste-testing multiple different batches to make sure every bowl tastes just as good as when it was cooked from my little apartment kitchen.
Empty containers waiting to be filled at the Mosaic kitchen
Step 6: Launch!
Our new meals are almost ready — there's just a few more finishing touches to close the loop. While I've been cooking away in my kitchen, our Marketing team has been hard at work on photoshoots, choosing a name for the bowl, perfecting the packaging design and labels, and getting the new meals ready to go live on the site. Once we get the green light from the kitchens that they're ready to start cooking, we flip the switch: the meals are officially live and ready to order!
After weeks of prep and hard work, a couple of clicks and a few days of shipping later, your new meals are ready at your doorstep, awaiting the final, and most important taste test: yours!
The final bowl!
Meanwhile, I'm already back in the kitchen, ready to start the process again on a whole new round of concepts, and dreaming up new product types we can offer. We're constantly reimagining what plant-based meals can look like, so if there's anything you'd love to see us start doing, let us know!