The R&D Diaries: Cauliflower Tikka Masala with Kanchan Koya
This month, we teamed up with Instagram celeb Kanchan Koya to launch our latest Mosaic+ dish.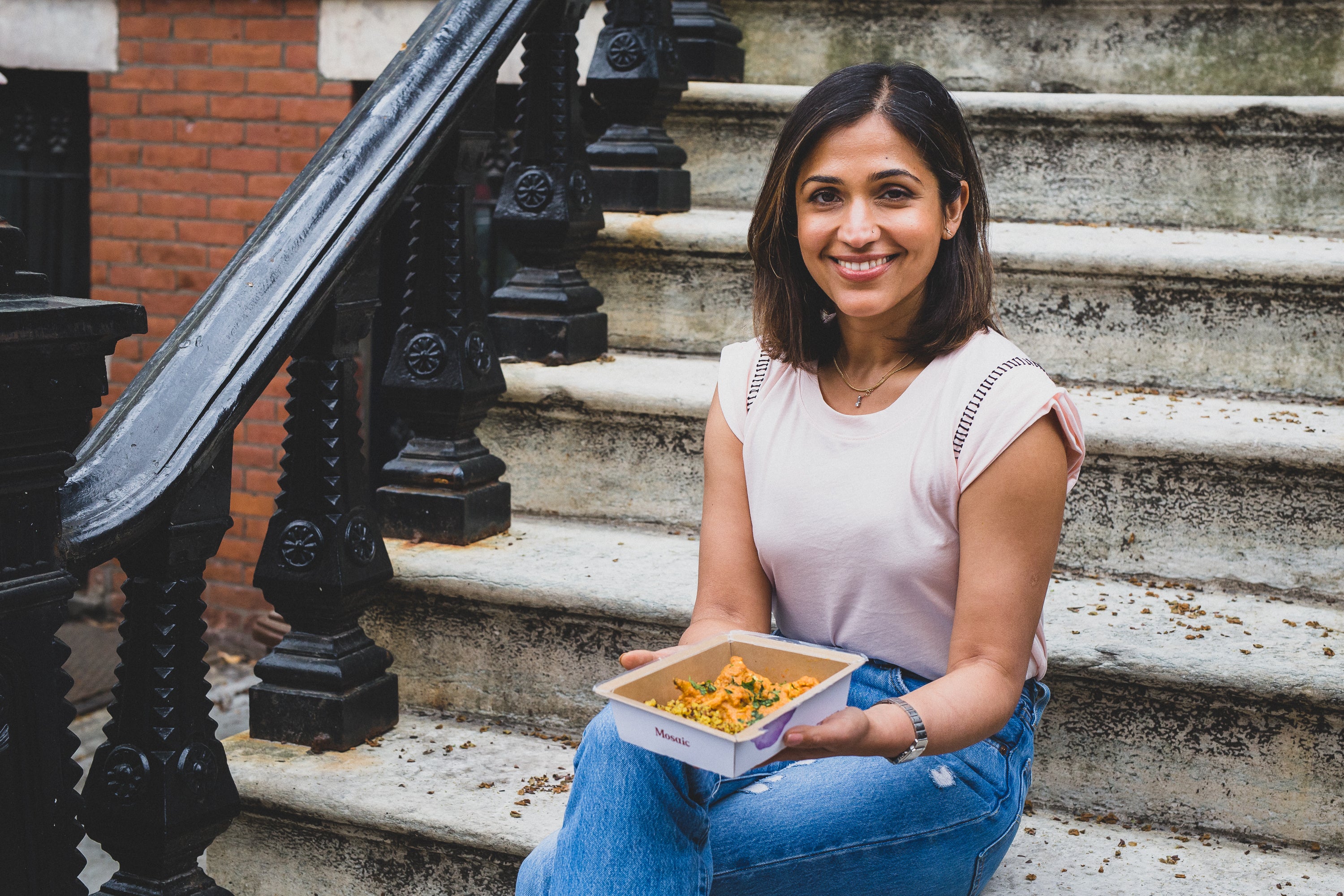 This month, we teamed up with Kanchan Koya — author, chef, Instagram star (follow her at @chiefspicemama!) to launch our latest Mosaic+ dish – Cauliflower Tikka Masala. A Ph.D. graduate of Molecular Biology from Harvard, Kanchan uses her academic background and practical training from the Institute of Integrative Nutrition to demystify and highlight the healing powers of spices. I love using spice in my cooking, and was super excited to work with Kanchan to bring a new dish to the Mosaic menu.
Kanchan launched her website, Spice Spice Baby, in 2016 as a platform to help families of all backgrounds better understand spices, their uses, and the restorative healing properties they offer. Kanchan has also released a cookbook of the same name — a first-of-its-kind spice and recipe book that shares the science-backed health benefits of 15 spices and 100 globally inspired recipes the entire family can enjoy. From baby foods to desserts, all of Kanchan's dishes incorporate health-boosting spices, and encourage us all to remember that food itself can often be our best, most powerful medicine.
There's so much of Mosaic's own food ethos that I find reflected in Kanchan's. For one, many of our meals use many of the spices Kanchan herself loves to use — turmeric, coriander, and cumin, and garam masala, to name just a few. And, like her, we wholly believe that good food is only possible with good ingredients. In the same way we approach every meal with intentionality at Mosaic, sourcing our ingredients thoughtfully and precisely, Kanchan is constantly thinking about how to use ingredients as not just a means to feed, but to heal, too!
I got to sit down with Kanchan ahead of our new meal launch to talk shop about spices, her food philosophy, and what collaborating with Mosaic was like. Here are some excerpts from our conversation:
What inspired you to start sharing your recipes with the world?
Food is joy but it can also be powerful when it comes to our health and vitality. When people think of healthy food they often think of dull, boring, lackluster fare, and I wanted to change that mindset! My recipes are vibrant, flavorful, and really good for you, and I felt like it was my calling to share them with the world.
What was the process of creating Cauliflower Tikka Masala like? How was it different for your home kitchen vs. for Mosaic?
I had a version of the recipe for my blog, but when creating it for Mosaic I wanted to bring big bold flavors to the table. We tweaked the spice amounts to really pack a flavor punch. I love that the Mosaic dishes don't try to dampen the intensity of flavor or spice. This cauliflower tikka masala is balanced yet bold — exactly how I would want it to taste for myself.
What's the most exciting part about your Mosaic collaboration?
To be able to bring one of my beloved spiced dishes that is delicious and good for you to market is a total dream come true.
What are your top 5 must-have spices and why?
This is a very hard question — akin to asking me which of my children I like better! But if I had to suggest 5 spices everyone should use on the regular for their versatility, flavor and health benefits they would be turmeric; sweet/smoked paprika or cayenne; sumac; cinnamon; and cardamom.
What do you think most people would be surprised to find out about how to use spices?
Most people would be surprised to find that cooking with spices on the regular is easy! People are intimidated by spices but they shouldn't be. With a few recipes to guide you and some fun experimentation in the kitchen, you can really elevate the flavor and health-enhancing magic of your food.
We're so excited for you to try this newest chef collaboration and taste for yourself just how wonderful it is! Add it to your box today and let us know what you think!