The R&D Diaries: In the Kitchen with Chef Pierre Thiam
Take a peek at how we developed our Black-Eyed Pea & Sweet Potato Ndambe with Chef Pierre Thiam.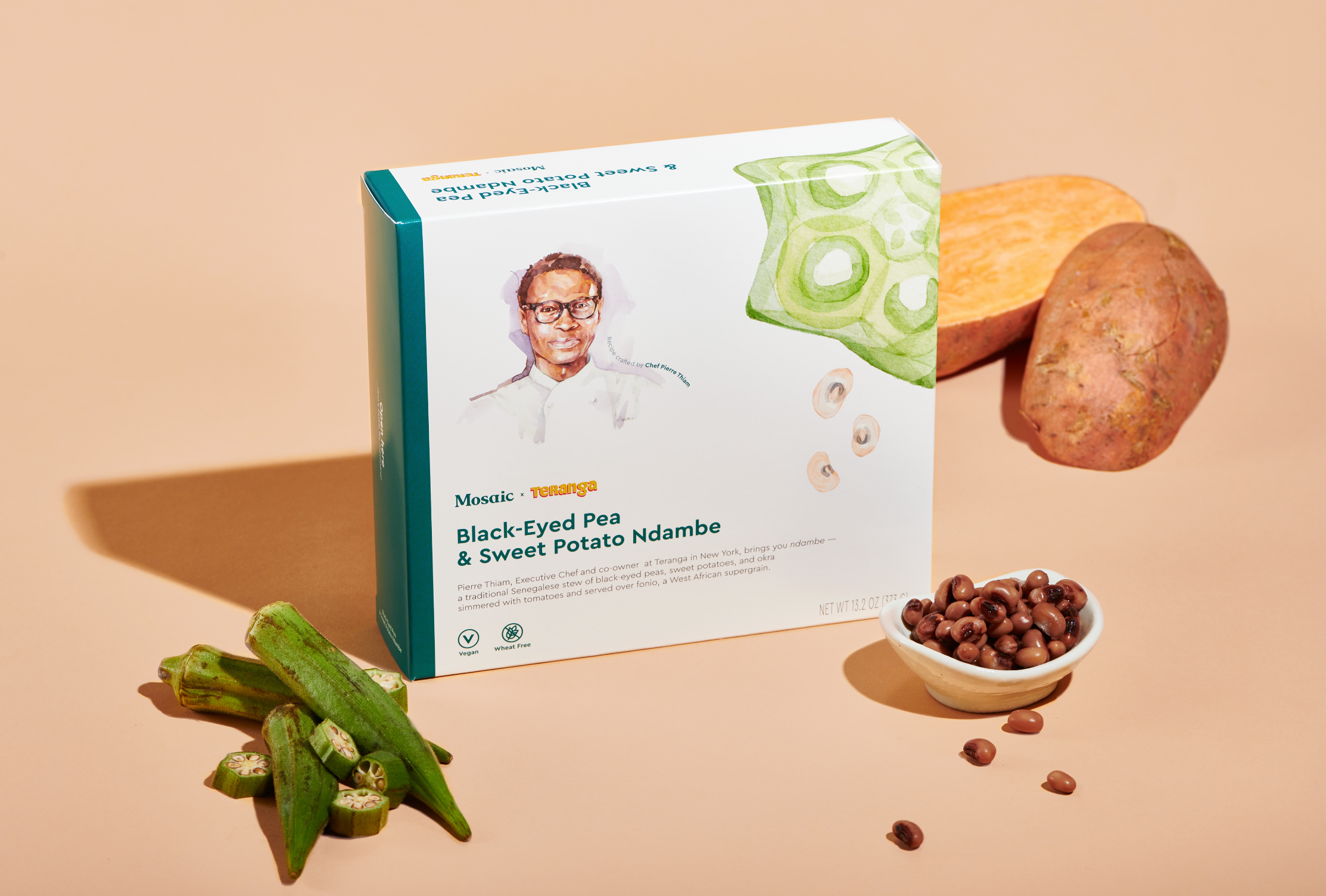 If you've read the first installment of our R&D Diaries, you know the depth and deliberation that goes into every Mosaic meal. From the first brainstorm to the final box, our goal is always to create the perfect marriage of taste, quality and convenience. We knew our first-ever chef collaboration had to deliver on all three — and then some. So we set out to find a partner just as committed to mission-driven food as we are.
Enter: Pierre Thiam, restaurateur and renowned chef, who has introduced West African cuisine to diners across the globe. Pierre, a native of Senegal currently living and working in NYC, is the chef and owner of Harlem's
Teranga
 and founder of 
Yolélé,
a revolutionary African food company working to create economic opportunity for smallholder farmers. Together, Pierre and I teamed up to create a recipe that would showcase some of his favorite ingredients and flavors while staying true to Mosaic's signature plant-based promise. It was a welcomed opportunity from Pierre to introduce his motherland's food to a wider audience, and a chance for Mosaic to feature never-before-tried ingredients on our menu.
The final dish we developed was our new Black-Eyed Pea and Sweet Potato Ndambe– a traditional Senegalese stew of black-eyed peas and sweet potatoes stewed with tomatoes and spices and paired with jollof fonio (fonio is an African supergrain and the signature product of Pierre's company, Yolélé), sweet plantains, and okra. Before we dive into some of the superstar ingredients in our newest bowl, I'd like to give you a sneak peak into the R&D process.
With my kitchen in New York and our first ever chef collaborator, Pierre Thiam, in San Francisco, we developed our new Black Eyed Pea and Sweet Potato Ndambe 100% virtually. I had the pleasure of chatting with Pierre about the process of working with our team from start to finish on a dish that means so much to him. Here's a behind-the-scenes look at development in Pierre's own words: 
Why did you decide to work with Mosaic to develop a meal?
I really loved the idea of expanding my brand to frozen food. Frozen food has come a long way! When it became clear to me that Mosaic cared deeply about the integrity of the food and the ingredients, I saw this as a great opportunity to continue my mission of introducing the flavors of West Africa. It was a new challenge and a wonderful way to reach a new audience.
What was it like working on a recipe for a frozen format vs. for a restaurant menu?
It was the same design process: ideate, create then test. Flavor always comes first. My inspiration often comes from food memories. That was certainly the case with my signature dish at Mosaic. The black eyed peas and sweet potato ragout (Ndambe) served over Jollof Fonio and Roasted plantain are flavors that I ate growing up in Senegal. It's a complete meal and it's vegan. In addition, the ingredients are very nutritious, particularly fonio which is an ancient, gluten-free grain from West Africa.
What surprised you the most about the development process?
Developing a frozen food menu is not very different from a restaurant menu. However, I was mostly surprised by how the integrity of flavors are kept in spite of the frozen process. Joining Mosaic opened my eyes to a whole world of possibilities. I can prepare my food the same way as I would in the restaurant and freeze it, and it will taste exactly the same when I reheat it.
Was it difficult to design a plant-based recipe?
Not particularly. My restaurant Teranga serves lots of plant-based dishes. As a chef, I want to be mindful about the impact my food is having on the environment. I often choose to highlight ingredients that are both nutritious and delicious. I also like to offer a diversified diet to my guests.
Both of Teranga's locations are in New York. What does it mean to you to have your cuisine in the freezers of people beyond NYC?
It's great to be able to reach people beyond the walls of my restaurants. To do it beyond NYC, particularly now with the COVID pandemic is a true blessing!
To bring Pierre's ideas to life, we had to find a way to bridge the distance between their respective kitchens in Manhattan and San Francisco, where Pierre recently relocated to. The solution? A Zoom marathon cook-off where we'd chop, simmer, and taste test our way to the winning recipe. On the list we had Mafe and Ndambe, two incredbly delicious and West African dishes featuring ingredients and flavors you'd find at Pierre's restautant, Teranga.
Here are some of the amazing ingredients that make the Ndambe especially flavorful and nutritious:
Anchoring the dish is jollof fonio — jollof is a legendary one-pot African dish known for its heat and deep flavors. Ghanaians and Nigerians have a long-standing rivalry over whose version is best, but Pierre puts his own spin on it by replacing the traditional rice with fonio, an ancient supergrain with a nutty, earthier flavor. Fonio is less dense than rice, so it soaked up the simmered tomatoes and bay leaves' flavor beautifully. It's also just as nutritious as it is delicious, boasting low-calorie credentials and high amounts of fiber, iron, Vitamin B, and zinc. Tasting the fonio was the deciding factor for me — it was my first time trying the fluffy grain, and one bite was enough to convince me to regularly add it to my home pantry! 
A small, yet key ingredient in the Ndambe is the dawadawa powder. A product of the African locust bean tree, dawadawa is made by pounding and boiling its seeds before fermenting them into a mixture that can be formed into balls, patties, or in our case, powder. Dawadawa is added to soups or stews, in a similar fashion to bouillon cubes. In the ndambe, the dawadawa adds a layer of depth while elevating the umami flavor.
To add some tanginess, the bowl is topped off with a refreshing dollop of nokoss, a sofrito-like sauce of ginger, garlic, and pepper, mixed with cilantro and scallions.
There you have it — a complete look at what went into creating our newest bowl. It was such a pleasure to work with Pierre to bring you such a special dish. It's a manifestation of the things we love most at Mosaic: great recipes, good ingredients, good food, right in your own home. We're so excited for you to try it!